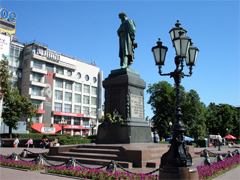 March 31, 2011 may be the first day in the two-year history of the Russian opposition's Strategy 31 campaign that the majority of its followers won't be found on Moscow's Triumfalnaya Square. In the latest development in the campaign to defend free assembly in Russia, some of the rally's organizers say they're applying for a permit to hold the upcoming event on Pushkin Square instead.
Moscow Helsinki Group leader Lyudmila Alexeyeva and a group of other human rights advocates told Interfax they had decided to change the format of the rally. "We're changing the place that we're going to hold the rally. We think that there will be more participants at a rally on Pushkin Square," Alexeyeva said.
The longtime rights advocate said one of the reasons for changing the location was the construction barrier erected around Triumfalnaya Square that the city authorities are refusing to take down.
"In addition, we don't want for there to be any confrontation," she said, likely referring to the unsanctioned Strategy 31 rallies that have been lead on the same square for the past several months by Other Russia party leader Eduard Limonov.
Limonov says he still plans to hold his own version of the rally on Triumfalnaya Square on March 31, despite the break between organizers and regardless of whether the government sanctions it or not.
Until October 2010, Strategy 31 rallies in Moscow were organized by Moscow Helsinki Group head Lyudmila Alexeyeva, Left Front representative Konstantin Kosyakin, and Other Russia party leader Eduard Limonov. For more than a year, the city refused to sanction the rallies and instead proposed alternative locations that would have isolated the protests from public view. The group split apart after Alexeyeva reached an agreement with city authorities to obtain sanction for a rally on Triumfalnaya with a limit of 800 participants. Limonov and Kosyakin insisted that no such limits should be imposed, and since then dual rallies have been held on the square on the 31st of each date – one sanctioned and one not.
Negotiations mediated in part by Memorial rights center head Oleg Orlov between the two groups earlier this month came to nought, Orlov told Interfax on Tuesday. "The negotiations are over. We regret that both sides turned out to be unprepared to find a rational compromise in the name of shared interests," he said. "There's too much disagreement and too much distrust."