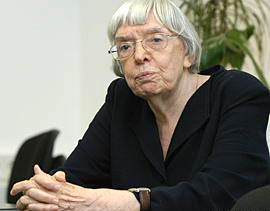 In yet another development in the conflict over opposition rallies on Moscow's Triumfalnaya Square, Moscow city authorities have once again changed their decision on whether to sanction the upcoming Strategy 31 rally on October 31, and now are proposing to allow 800 people to gather for the event.
The proposal was made late Monday to Strategy 31 co-organizer and prominent rights activist Lyudmila Alexeyeva. Speaking to Ekho Moskvy radio, Alexeyeva said she "was just at the mayor's office," where officials said they were willing to "widen the part" of Triumfalnaya Square that they had proposed last week for the oppositionists to rally. The expansion, said officials, would "block traffic," but if no more than 800 people took part in the rally, it would not be broken up by police as in each past Strategy 31 rally. "They say that about 800 people plus the press will fit there," said the rights activist. She did not rule out, however, that more people might try to participate.
"It's very important that people who definitely want to be at the rally come on time, because when the space fills up, it could be difficult to get there," noted Alexeyeva. She also expressed hope that the other two Strategy 31 organizers, Other Russia party leader Eduard Limonov and Left Front representative Konstantin Kosyakin, would agree with her to accept the proposal, so that the Russian opposition could finally hold a rally in defense of the constitutional right to free assembly without being broken up by police.
The mayor's office originally agreed to sanction the rally only if no more than 200 people showed up, but then reneged on their offer when rally organizers insisted on letting 1500 people protest.
A source in the mayor's office told the Interfax news agency that the city was not willing to take down a construction barrier and remove equipment currently taking up the majority of space in the square, as oppositionists requested last week that they do in order to allow the usual 1500 or so protesters to take part in the event.
After talks on Monday night, however, the three Strategy 31 organizers were unable to reach a consensus on whether or not to accept the city's proposal. According to Ekho Moskvy, Limonov and Kosyakin now plan to write a another letter to the mayor's office asking for 1500 people to be allowed to come out to the rally. Alexeyeva said she would not be signing the letter.
Limonov had earlier expressed both surprise at the proposal and skepticism in general. "For my part, I can also say that we were told that there was only space for 200 people; where all of a sudden, in the course of a day, did space for another 600 come from?" he said.