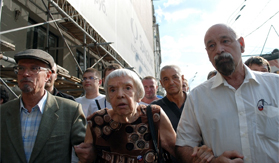 Organizers of the Strategy 31 rallies in defense of free assembly have given their official response to yesterday's proposal by the Moscow mayor's office to hold a rally on October 31 if no more than 200 people participate.
In their written response to newly-instated Moscow Mayor Sergei Sobyanin, Strategy 31 organizers insisted on having at least 1500 people be allowed to rally on Moscow's Triumfalnaya Square. A construction barrier, which was recently erected around the square and a monument to Soviet writer Vladimir Mayakovsky, should be taken down in order to make more room for the protesters, they said.
"It's possible, if they take down the fence surrounding the monument, where there's no construction going on," reads the letter. "Ten days left before the 31st, that's entirely enough time to do this."
The Moscow mayor's office agreed yesterday for the first time in the year-and-a-half history of Strategy 31 to grant sanction for opposition protesters to gather on Triumfalnaya Square. However, the rallies have traditionally consisted of more than 1000 protesters, problematizing the city's proposal to allow only 200 to gather.