All Posts Tagged With: "Triumfalnaya Square"

A year and a half after closing the square for construction that never took place, Moscow city authorities say they're reopening Triumfalnaya Square for rallies and other public gatherings.
Feb 1, 2012 |
Continued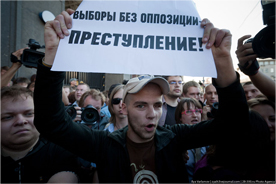 Police in Moscow have arrested 26 activists protesting the exclusion of opposition parties from upcoming State Duma elections, injuring at least one in the process.
Oct 4, 2011 |
Continued

Authorities in Moscow and St. Petersburg have once again refused to sanction Strategy 31 rallies in their cities; oppositionists intend to protest in defense of free assembly regardless.
Jul 21, 2011 |
Continued

Opposition activists across Russia held rallies in defense of free assembly on Tuesday, with dozens detained in Moscow, St. Petersburg, and other cities.
May 31, 2011 |
Continued

Lyudmila Alexeyeva and a group of other human rights activists plan to hold their own Strategy 31 rally in March on Pushkin Square, after negotiations with other organizers to fix a five-month split came to nought.
Mar 15, 2011 |
Continued

Dozens of people were detained in Strategy 31 rallies across Russia on Monday, with activists reporting of wanton police violence and detentions of accidental bystanders.
Jan 31, 2011 |
Continued

Strategy 31 protests were held throughout Russia on Sunday, with a rift between organizers in Moscow making for an unusual series of events.
Nov 1, 2010 |
Continued

Moscow authorities say they're willing to allow 800 people to take part in an opposition rally on October 31, but rally organizers disagree on whether to accept the proposal.
Oct 25, 2010 |
Continued

Strategy 31 organizers are asking the Moscow mayor's office to reconsider allowing at least 1500 people gather on Triumfalnaya Square for their upcoming rally, after receiving a proposal that would limit them to 200.
Oct 21, 2010 |
Continued

For the first time ever, the Moscow city authorities have agreed to let oppositionists hold a Strategy 31 rally on Triumfalnaya Square – but only if no more than 200 protesters show up.
Oct 20, 2010 |
Continued