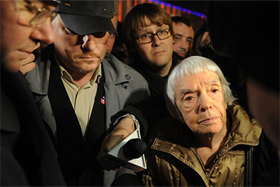 Thousands of demonstrators held rallies in defense of the constitutional right to free assembly across Russia on Sunday, as part of the opposition's ongoing Strategy 31 campaign. While more than 80 participants were detained in St. Petersburg, events in Moscow took a very different shape than usual.
With a new mayor and a rift between rally organizers, nobody knew what to expect from Moscow's Strategy 31 rally. When the three organizers – Moscow Helsinki Group head Lyudmila Alexeyeva, National Bolshevik leader Eduard Limonov, and Left Front representative Konstantin Kosyakin – were told by the mayor's office that they would be allowed to hold a rally for no more than 200 people on Triumfalnaya Square, it was both the first time ever that such permission had been granted and the first time that the trio had become so split on how to respond. Alexeyeva came to an agreement with the mayor's office to allow a rally for 800, while Limonov and Kosyakin chose to split off and hold a separate rally – on the same square, at the same time, and still under the banner of Strategy 31 – unsanctioned and thus more liable to a police crackdown, but for as many people as wanted to come.
According to Gazeta.ru, Moscow city police were given an order ahead of the rally to avoid detaining participants and to behave in an appropriate fashion. To ensure this, Police Chief Vladimir Kolokoltsev and the new deputy mayor in charge of work with city law enforcement, Vladimir Shukshin, were present at the rally to observe. Presidential rights advisor Mikhail Fedotov and federal Human Rights Ombudsman Vladimir Lukin also came as observers.  And it showed. Metal detectors were set up at the entrance to the sanctioned part of the rally, and police stopped traffic to allow activists arriving from the metro to cross the street. OMON riot police, who are most often noted in the media for their particularly brutal treatment of opposition protesters, were heard yelling into a microphone: "Go to Alexeyeva, she's waiting for you." About 1000 showed up for the sanctioned event.
Protesters who chose to join with Limonov and Kosyakin were forced to squish onto the terrace outside the Tchaikovsky Concert Hall, which borders Triumfalnaya Square. At the height of the rally, the crowd was estimated at between 1500-2000 people. Police made several detentions when activists from the unsanctioned rally attempted to saw open the barrier that is currently blocking off the majority of Triumfalnaya Square for construction. Another two were detained for setting off smoke bombs.
A half hour after the rally began, police formed a human chain and began to push the unsanctioned crowd towards Alexeyeva's event, knocking over the metal detectors in the process. According to Ekho Moskvy radio, Limonov himself was hoisted by his arms and legs over that part of the square. Once inside, ralliers were not allowed back out.
While this was going on, Lyudmila Alexeyeva and singer Katya Gordon were giving speeches to their crowd, with Gordon shaming the police for jamming Limonov's ralliers together and Alexeyeva hailing the sanctioned event as "our shared achievement." "I want to thank you for coming to Triumfalnaya Square on every 31st date for the course of a year and a half," said the elderly rights activist. "We must force the government to treat our rights with respect."
A number of notable civic organizations had representatives at Alexeyeva's rally, including Lev Ponomarev of For Human Rights, Left Front leader Sergei Udaltsov, Solidarity members Boris Nemtsov, Ilya Yashin, Sergei Davidis, and Oleg Kozlovsky, Khimki Forest defense activist Yevgeniya Chirkova, and representatives from the Memorial human rights center. Nemtsov decried the conflict between the Strategy 31 organizers, saying that "we mustn't give the Kremlin such a gift as a schism." He then proposed that ralliers gather once again on December 31 and end their rally by marching on the Kremlin.
After an hour, the sanctioned rally was over, and both organizers and police began asking people to leave. However, a group of between 300-800 people broke off and began marching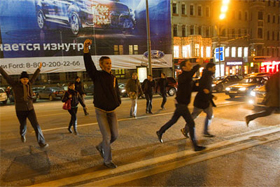 south down the Garden Ring towards the Russian White House, blocking traffic and apparently taking Nemtsov's words as a call to immediate action. Police broke up the crowd amidst cries of "it's our city!" and "revolution!"
At that point, most of the marchers scattered, but about 30 reformed and continued to march on the White House. Mobile Twitter messages from those present gave some insight into the group's mentality. "Part of the group has set off for the White House, IMHO in vain: you really need to know when to stop," tweeted Solidarity member Oleg Kozlovsky.
According to reporter Ilya Azar, "Nobody knows where the White House is. Kozlovsky is asking people not to go and nobody is listening to him." Eventually, OMON riot police caught up with the marchers, and half ran away. Gazeta.ru reported that seven were detained right outside of the White House entrance, including activist Marina Litvinovich, Kasparov.ru correspondent Pavel Nikulin, and Polit.ru journalist Maria Klimova.
The total 38 detainees were released on Monday morning from holding cells in Moscow, according to Other Russia representative Aleksandr Averin.
Two separate rallies in defense of free assembly were also held in St. Petersburg on Sunday. About 1000 people gathered at Gostiny Dvor, were police immediately began making detentions. Another 300 people rallied at Dvortsovaya Square. Police began detaining those activists after they unfurled a 30-meter-long Russian flag.
Other Strategy 31 events were held in the Russian cities of Vladivostok, Kurgan, Penza, Murmansk, Tver, Ekaterinburg, Samara, Astrakhan, Sochi, Ryazan, Krasnodarsk, and others, largely without incident.
For the second time in a row, about 50 protesters also held a solidarity rally outside of the Russian embassy in London. Participants included exiled oligarch Boris Berezovsky, former Soviet dissident Vladimir Bukovsky, and Marina Litvinenko, the widow of murdered ex-FSB officer Alexander Litvinenko.
Video from RIA Novosti on the Moscow protest (in Russian):