All Posts Tagged With: "Konstantin Kosyakin"

Two prominent Russian oppositionists have been fined for violating rally regulations according to a new law that severely increased respective penalties; neither can afford to pay them.
Aug 9, 2012 |
Continued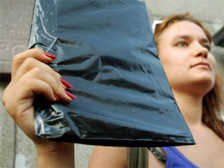 Four activists were arrested at Wednesday's Day of Wrath rallly, after opposition protesters attempted to deliver their list of demands to the presidential administration building.
Oct 12, 2011 |
Continued

Authorities in Moscow and St. Petersburg have once again refused to sanction Strategy 31 rallies in their cities; oppositionists intend to protest in defense of free assembly regardless.
Jul 21, 2011 |
Continued

Organizers have decided once again to apply for permits to hold two separate rallies on Triumfalnaya Square for the next set of Strategy 31 rallies, while pro-Kremlin youth groups attempt to stage their own event as a diversion.
Jan 19, 2011 |
Continued

As Russian oppositionists continue to sit out jail sentences received after the latest Strategy 31 rally, Garry Kasparov warns that the state officials involved in such corrupt and unlawful arrests and convictions will, at some point, have to answer for their crimes.
Jan 5, 2011 |
Continued

Several prominent opposition leaders have been sentenced to jail time and hundreds more arrested following a night of Strategy 31 rallies held in more than 70 Russian cities on New Year's Eve.
Jan 2, 2011 |
Continued

Moscow authorities have agreed to sanction both upcoming Strategy 31 rallies, but two organizers are rejecting their half of the plan based on a change in time and the unacceptable number of allowed participants.
Dec 23, 2010 |
Continued

Moscow city authorities have granted permission to a group of rights advocates to hold one of two Strategy 31 rallies planned for New Year's Eve in Moscow.
Dec 20, 2010 |
Continued

Strategy 31 protests were held throughout Russia on Sunday, with a rift between organizers in Moscow making for an unusual series of events.
Nov 1, 2010 |
Continued

Moscow authorities say they're willing to allow 800 people to take part in an opposition rally on October 31, but rally organizers disagree on whether to accept the proposal.
Oct 25, 2010 |
Continued