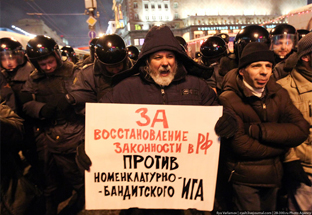 Several prominent opposition leaders have been sentenced to jail time following a night of rallies in defense of free assembly that were held in more than 70 Russian cities on New Year's Eve.
Boris Nemtsov, co-leader of the Solidarity opposition movement, and Eduard Limonov, head of the banned National Bolshevik party and the Other Russia party, were both sentenced to 15 days in jail – Nemtsov for insubordination to the police and Limonov for hooliganism. Left Front coordinator Konstantin Kosyakin received a 10-day sentence for insubordination to the police and Solidarity member Ilya Yashin was sentenced to 5 days in jail, presumably for the same offense.
In the cases of Kosyakin, Nemtsov, and Yashin, a Moscow court refused to admit testimony from 13 witnesses who asserted that the police had acted unlawfully during the rally.
According to Other Russia party member Andrei Gorin, Limonov had been arrested directly outside of his home on his way to the rally. He was sentenced that very evening.
The nationwide rallies were held as part of the Russian opposition's ongoing Strategy 31 campaign, which is dedicated to the defense of the 31st article of the Russian constitution, guaranteeing the freedom to peacefully hold gatherings, rallies, demonstrations, marches and pickets.
In Moscow, organizers held two separate rallies, both at 6 pm on Triumfalnaya Square. Lyudmila Alexeyeva, a former Soviet dissident and highly regarded rights activist, received approval from the city to hold one of the rallies. Limonov and Kosyakin organized the second, unsanctioned rally.
As Gazeta.ru reports, the police presence at Triumfalnaya Square that night was strong even compared to previous Strategy 31 events.
"More than one thousand people have gathered at the sanctioned rally," the correspondent reported. "Police are inspecting everyone very closely; there are a thousand of them as well… Several hundred members of the Other Russia coalition are gathered near the metro."
An estimated 1500 ralliers came out to Triumfalnaya Square in total.
Moscow city police had cordoned off the square earlier in the day, particularly around the sidewalk between the square and the Tchaikovsky Concert Hall, where participants of unsanctioned Strategy 31 rallies usually gather. Anyone who attempted to join that rally from the neighboring Mayakovsky metro station was detained directly at the exit.
Other Russia member Sergei Aksenov was detained after announcing over a megaphone that Limonov had been arrested.
According to Kasparov.ru, OMON riot police periodically squeezed together the participants on Alexeyeva's side of the square – a tactic commonly used by police during Strategy 31 rallies that often makes it difficult for those present to move or even breathe.
Following up from last year, Alexeyeva came to the rally dressed as a festive snowmaiden. Other oppositionists dressed up as well: environmental activist Yevgenia Chirikova came in a Little Red Riding Hood costume. Rights activist Lev Ponomarev said he wanted to dress as Father Christmas, but couldn't get ahold of a suitable cap.
After the sanctioned rally had officially ended, some participants – including Nemtsov and Yashin – attempted to cross over to the unsanctioned rally and were promptly arrested. According to Interfax, about 70 people were detained on Triumfalnaya Square in total.
Prior to the rallies, Moscow Mayor Sergei Sobyanin had warned that the city would not allow large, unsanctioned events to be held on New Year's Eve, and that "those who plan to violate the law" could find themselves face-to-face with some unpleasant consequences.
Viktor Biryukov, head of public relations for the Moscow city police, said that they would not allow provocateurs and participants of any possible unsanctioned rallies to ruin New Year's Eve night for people in the city.
In St. Petersburg, police arrested about 60 people in one of two Strategy 31 rallies held in the city that night. City authorities had refused to grant sanction to either rally.
As Fontanka.ru reports, all the arrests occurred at Gostiny Dvor, where between 100 and 300 people had gathered to rally. Nine girls were detained after unfurling a poster reading "freedom is more important than Olivier salad."
No arrests were made at the second rally, which had about 100 participants from the United Civil Front, Solidarity, Yabloko, and other opposition groups. Many ralliers wore shirts picturing Mikhail Khodorkovsky, a former oil oligarch who was convicted for a second time last week. He will now continue to sit in prison until 2017. The conviction is widely seen as the personal vendetta of Russian Prime Minister Vladimir Putin.
Photographs of the Moscow rallies can be found by clicking here and here.