All Posts Tagged With: "Moscow"

A man has died in administrative detention in the same Moscow police station where three officers were arrested last year for suspicion of murdering an acquaintance.
Jan 5, 2013 |
Continued

While police in Moscow are busy arresting anyone with so much as a ribbon to signify their support for the political opposition, one man with a fake (but lifelike) AK-74 was allowed to walk unquestioned throughtout the capital's downtown.
May 10, 2012 |
Continued

Dozens of opposition activists have been detained in rallies for the constitutional right to free assembly across Russia, some of whom have reportedly suffered beatings by police.
Nov 1, 2011 |
Continued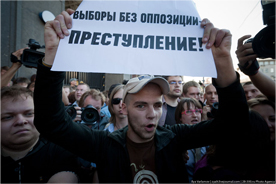 Police in Moscow have arrested 26 activists protesting the exclusion of opposition parties from upcoming State Duma elections, injuring at least one in the process.
Oct 4, 2011 |
Continued

Dozens of people were arrested at Strategy 31 protests across Russia on Wednesday, with at least one severely beaten and two regional leaders facing possible severe political persecution.
Aug 31, 2011 |
Continued

More than thirty opposition protesters were arrested at Friday's Day of Wrath protest in Moscow, as two of its three organizers sit out sentences for administrative arrest.
Aug 13, 2011 |
Continued

Residents of Moscow are protesting a move by Mayor Sergei Sobyanin to replace 4 million cubic meters of sidewalk pavement with stone tiles – the exact type of business his wife happens to own.
Jul 26, 2011 |
Continued

Political activists looking to hold protests in Moscow are facing increasing opposition from Mayor Sobyanin, who says that city streets and squares should be closed off for demonstrations only if they consist of many thousands of people.
Jun 6, 2011 |
Continued

Lyudmila Alexeyeva has received approval from the Moscow mayor's office to hold a Strategy 31 rally in March in Moscow, while a different rally to be held by her former co-organizer, Other Russia party leader Eduard Limonov, was banned.
Mar 22, 2011 |
Continued

Lyudmila Alexeyeva and a group of other human rights activists plan to hold their own Strategy 31 rally in March on Pushkin Square, after negotiations with other organizers to fix a five-month split came to nought.
Mar 15, 2011 |
Continued