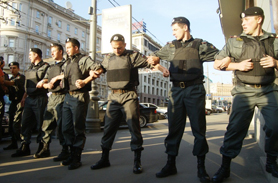 Police arrested more than thirty opposition activists at a protest held under the Day of Wrath campaign on Moscow's Teatralnaya Square on Friday, Kasparov.ru reports.
The arrests began when the protesters unfurled posters saying "Freedom to Sergei Udaltsov," the Left Front leader currently on hunger strike in jail, and pictures of political prisoner Taisiya Osipova. Oppositionists then linked arms and sat on the ground, crying "freedom to Taisiya Osipova" and "Russia without Putin."
According to eyewitnesses, police acted very brutally toward the protesters. "They surrounded us in a ring and then began pulling us out one by one. They twisted our arms and dragged us along the ground," said Polina Ivanova, an Other Russia member and one of those detained.
Others eyewitnesses reported that at least two oppositionists were severely beaten in police custody.
While arrests were being made, those present at the rally began clapping in protest. One activist from the Solidarity opposition movement was dragged out of the crowd and thrown into a police bus for his applause.
Left Front Press Secretary Anastasia Udaltsova was detained halfway to the building of the presidential administration, where she intended to hand in a list of demands of rally members.
About 200 people took part in the Day of Wrath protest, which is held monthly and meant to provide a place for Moscow residents to voice their discontent with city authorities on relevant economic, social and political issues.
Moscow city authorities had refused to sanction the August 12 protest on the grounds that there was not enough room on the nearby sidewalk for pedestrians to pass.
As an alternative, the city proposed that the protest be held on the Shevchenko Embankment, where officials have suggested moving all protests not allowed in the city center since 2007. The embankment is outside of central Moscow and would render any protests held there hardly visible to the public.
Day of Wrath organizers Sergei Udaltsov, Left Front co-leader Konstantin Kosyakin and human rights advocate Lev Ponomarev say that the refusal to sanction the rally on Teatralnaya Square was unlawful.
Unsanctioned protests in Russia are routinely cracked down upon, often in a brutal fashion, by police.
Additionally, two of the three protest organizers – Udaltsov and Kosyakin – are currently under administrative arrest following an unsanctioned Strategy 31 protest on August 31. Udaltsov was given a 15 day sentence; Kosyakin was given 5 days. They were charged with disobeying police orders.