All Posts Tagged With: "Day of Wrath"

In the midst of a hunger strike, Left Front leader Sergei Udaltsov was admitted to a Moscow hospital after initially being rejected, despite complaints of low blood sugar, heart pain, and "noises in his head."
Oct 17, 2011 |
Continued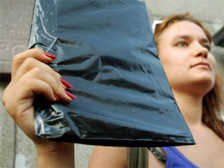 Four activists were arrested at Wednesday's Day of Wrath rallly, after opposition protesters attempted to deliver their list of demands to the presidential administration building.
Oct 12, 2011 |
Continued

More than thirty opposition protesters were arrested at Friday's Day of Wrath protest in Moscow, as two of its three organizers sit out sentences for administrative arrest.
Aug 13, 2011 |
Continued

Opposition leader Sergei Udaltsov has been sentenced to ten days in jail following a sanctioned rally in Moscow over the weekend; he is going on hunger strike in protest.
Feb 15, 2011 |
Continued

Moscow city authorities have agreed to sanction the opposition's Day of Wrath protest for the first time ever.
Feb 5, 2011 |
Continued

Days after completing a controversial three-day term, rights leader Lev Ponomarev has been sentenced to another four days of administrative arrest in connection with his participation in an opposition protest.
Sep 8, 2010 |
Continued