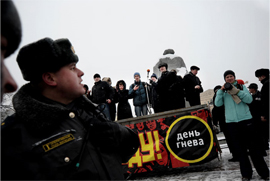 A Moscow regional court has sentenced oppositionist Sergei Udaltsov to ten days in jail, following a sanctioned rally in Moscow during which police accused him of disobeying their orders, Kasparov.ru reports.
According to Anastasia Udaltsova, press secretary for Udaltsov's Left Front movement, the oppositionist does not believe he is guilty and has announced a hunger strike for the duration of his arrest.
Judge Yelena Abramova convicted Udaltsov on charges of disobeying the lawful demands of a police officer – an administrative offense in Russia.
Udaltsov was first detained on February 12 when approximately 500 protesters gathered on Moscow's Teatralnaya Square for the Russian opposition's monthly Day of Wrath protest. It was the first time that city authorities had agreed to sanction the rally, with previous events routinely cracked down on by police. Udaltsov also applied for permission to hold a march following the protest but was denied.
Intended as a venue to voice Russians' general grievances against their government, the Day of Wrath rally attracted participants from the Left Front, the Solidarity opposition movement, the Russian Federation of Automobile Owners, the Movement in Defense of the Khimki Forest, defrauded real estate investors, communists, and numerous other causes.
Following the rally, writes Kasparov.ru, law enforcement officials gave Udaltsov permission to march along the sidewalk to the nearby presidential administration building to hand in a list of demands and symbolic "black marks," with the caveat that the participants could not carry any flags of shout slogans along the way.
About 250 people joined in the march. "There were no flags or slogans," Udaltsov said. However, upon reaching the Hotel Metropol, the marchers found themselves blocked by OMON riot police, who soon began to detain them. The first to be arrested was Udaltsov himself.
According to Udaltsov, 22 people were arrested during the march. Moscow city police put the figure at 14.
It was unclear exactly what orders police gave to Udaltsov that he supposedly disobeyed, or what else occurred that provoked the OMON to arrest some of the protesters – especially considering that a small group was allowed to go on and carry the list of demands to the presidential administration anyway. "Approximately 15 people went by themselves to Staraya Square and submitted our demands," explained Udaltsov. "But it's unclear why they had to stop us from walking. A march along the sidewalk is not a crisis."