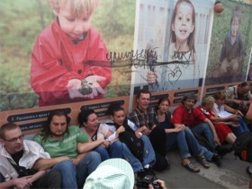 Continuing what is now a more than two year old tradition, Strategy 31 rallies in defense of free assembly were held across Russia on Wednesday, with varying degrees of success but rarely lacking the equally traditional abuse of protesters by police and internal military forces.
In Moscow, at least 35 people were detained at Triumfalnaya Square immediately at the beginning of the rally at 6:00 pm. Some protesters had attempted to hold a sit-in near the entrance to the Mayakovskaya metro station, which is directly across from the square and for the past year has been cordoned off by a construction barrier despite the complete lack of any actual construction for the vast majority of that time. Sitting on the ground with arms linked, the protesters called for "a Russia without Putin" and "freedom to political prisoners."
According to eyewitnesses, police threw journalists out of their path, surrounded the protesters, unlinked their arms and dragged them along the ground, all amidst cries of "fascists!" from the onlooking crowd, towards a row of police buses.
Those detained included members of the opposition movement Solidarity, the Other Russia political party, the Left Front opposition group, and others.
One Other Russia activist, Simon Verdiyan, was reportedly severely beaten by police officers in a bus on its way to the Presnenskoe police precinct.
Another 22 ralliers attempted to stage a sit-in around the Triumfalnaya Square construction barrier. In an unprecedented move, police refrained from arresting Strategy 31 co-organizer and Other Russia party leader Eduard Limonov when he joined the sit-in. In general, Limonov is arrested immediately upon arriving at Strategy 31 rallies.
A Kasparov.ru correspondent reported that other protesters gradually joined in the sit-in, which at 6:40 pm numbered at about 60 people.
Some activists taking part in the sit-in, led by Limonov, then began to march towards the nearby Peking Hotel but were stopped by police. Limonov and one of his guards were allowed to pass after the Other Russia leader explained that he was trying to reach his car to go home. The remaining marchers were ordered to disperse.
Remarkably, the remaining sit-in participants were allowed to sit unhindered by police for the remainder of the evening. At 8:00 pm they rose and, promising to return, left the square.
Police did arrest a group of "provocateurs" who, according to Kasparov.ru, "tried to give money to oppositionists and bystanders," as if they were being paid to partake in the rally. Members of pro-Kremlin youth groups are often found at opposition rallies spreading false rumors that ralliers are paid by Westerners to spoil Russia's image abroad.
The arrested oppositionists were charged with a variety of offences, including violating order at a rally, disobeying police orders, and petty hooliganism. Like the overwhelming majority of previous Strategy 31 rallies, Wednesday's event was not granted official sanction from Moscow city authorities, thus rendering the rally illegal. However, as of late Wednesday night, chief organizer Eduard Limonov had not been arrested and there were no reports of detainees being charged with participation in or organization of an unsanctioned rally.
According to Moscow city police, only 12 people had been detained, 8 of whom they say were "consciously blocking pedestrian and automobile traffic on Triumfalnaya Square."
The day before the rally, as is routine, Triumfalnaya Square was completely surrounded by police buses in order to transfer detainees to the police station the following evening.
Sixty-six people were detained at the previous Strategy 31 rally in Moscow on July 31.
In St. Petersburg, 40 out of the approximately 300 Strategy 31 protesters holding a sit-in at Gostiny Dvor were detained, including United Civil Front Executive Director Olga Kurnosova. According to Gazeta.ru, police literally lifted the protesters from the ground and carried them into police buses, all in under two minutes.
In addition, 10 out of a separate group of 20 Strategy 31 ralliers at Dvortsovaya Square were also arrested.
Like in Moscow, St. Petersburg city authorities refused to sanction Wednesday's rally, despite being for the first time in the history of Strategy 31 under a new governor – acting Governor Georgy Poltavchenko. Oppositionists had hoped that the transfer of highly unpopular United Russia Governor Valentina Matvienko to her new post as Federation Council Speaker might give the city government a chance to rethink its attitude towards adhering to Russians' constitutional right to free assembly.
Strategy 31 rallies were also held on Wednesday in dozens of other cities across Russia.
In Saratov, Rostov-on-Don and Nizhny Novgorod, small protests of about 30 people each were held without any police crackdown. In comparison, 16 people were arrested at July's Strategy 31 rally in Nizhny Novgorod, with three sentenced to five days of administrative arrest each. Rostov-on-Don city authorities refused to sanction the rally on the basis that someone had come four minutes earlier asking for a permit to hold their own rally "to inform citizens about electoral legislation." Whoever this person was, they didn't show up Wednesday evening at rally location.
Five people were detained at a rally in Ryazan, where local authorities also refused to sanction the event at its location in a central city square, proposing that it be moved to the outskirts.
On August 30, police arrested oppositionist Aleksei Panov in Arkhangelsk, supposedly for an unpaid fine. Panov insists that the arrest was politically motivated in order to prevent the next day's protest.
In addition, reports also surfaced on Wednesday that one of the organizers of Strategy 31 in Yekaterinburg, Yevgeny Legedin, has left Russia and is attempting to gain political asylum in Great Britain. Criminal charges of slander were filed against Legedin on July 15, but the oppositionist insists that the charges were politically motivated. He is currently awaiting a response from British authorities.
Legedin's arrest comes after the conviction of Yekaterinburg's other Strategy 31 leader, local Yabloko party deputy Maksim Petlin, on slander charges. Petlin, who is currently sitting out a two-month jail sentence, also maintains that the case against him was fabricated.
Despite the absence of both organizers, oppositionists in Yekaterinburg held a Strategy 31 rally Wednesday night.
Per tradition, Strategy 31 rallies are held on the 31st date of the month in dozens of cities throughout Russia in honor of the 31st article of the Russian constitution, which guarantees freedom of assembly. They often end with activists being beaten and detained by police.