All Posts Tagged With: "Other Russia"

A member of the Other Russia party says he was threatened with deportation, problems with his job, and the possibility of losing his family if he didn't become an FSB informant.
Aug 16, 2012 |
Continued

Russia's Central Electoral Commission confirmed that Russian opposition leader Eduard Limonov had properly submitted all documents needed to register to run for presidency, despite suspected politically-motivated interference.
Dec 15, 2011 |
Continued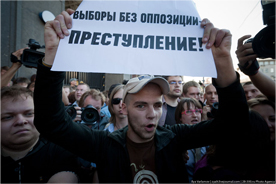 Police in Moscow have arrested 26 activists protesting the exclusion of opposition parties from upcoming State Duma elections, injuring at least one in the process.
Oct 4, 2011 |
Continued

Moscow police have raided the organizational office of Strategy 31 and promised to arrest any protesters who turn up on Triumfalnaya Square on March 31.
Mar 30, 2011 |
Continued

Police in St. Petersburg are threatening to take away the child of an opposition activist if she doesn't appear for interrogation; Other Russia party members say the threat is connected with their upcoming protest march.
Mar 24, 2011 |
Continued

The Russian Justice Ministry has rejected an application by the Other Russia political party to become an officially registered party, thus destroying their chances of participating in upcoming elections.
Jan 26, 2011 |
Continued

Activists protesting the jail sentences of four Strategy 31 participants are being arrested despite the legality of their protests; the US State Department has come out strongly against the sentences as well.
Jan 4, 2011 |
Continued

Several prominent opposition leaders have been sentenced to jail time and hundreds more arrested following a night of Strategy 31 rallies held in more than 70 Russian cities on New Year's Eve.
Jan 2, 2011 |
Continued

Two Strategy 31 organizers in St. Petersburg have been released from police detention but now face extremism charges, while a third has been sentenced to 27 days of administrative arrest.
Nov 3, 2010 |
Continued

For the first time ever, the Moscow city authorities have agreed to let oppositionists hold a Strategy 31 rally on Triumfalnaya Square – but only if no more than 200 protesters show up.
Oct 20, 2010 |
Continued