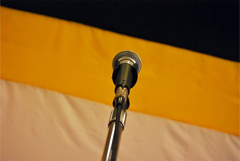 A Russian opposition activist is filing a complaint against police for threatening him with deportation and problems with his job and family in an attempt to recruit him as an informant, Kasparov.ru reported on Wednseday.
According to Dmitri Sidorenko, a member of the unregistered Other Russia party, the conflict began when an unknown assailant attempted to provoke him into a fight at Moscow's Yuzhnaya metro station on the morning of August 3. He was then detained and brought to a police station, where a man presented himself as an FSB officer and showed a badge identifying him as Major Vladimir Aleksandrovich Belov.
The officer explained that he was interested in Sidorenko because of his involvement in the Strategy 31 protest campaign for free assembly. He then proposed that the activist become an informant and provide him with detailed information about the plans of Other Russia party leader and protest coordinator Eduard Limonov, promising "material compensation" in return.
The press release issued by the party states that Belov threatened Sidorenko with deportation to Belarus, where he is a citizen, after he refused. Conversely, if the activist accepted the offer, he would be granted Russian citizenship.
The police officer made it clear that Sidorenko would have problems at work if he declined the offer. He also told the activist that, "in the case of an incorrect decision," he would lose his wife and two small children.
As an example, Belov mentioned Sidorenko's sister-in-law, Olga Shalina, who is currently in a Nizhny Novgorod jail. The officer told him that her confinement was a result of "behaving badly."
At the end of the conversation, Belov said that he would not bother Sidorenko in the coming days, but officers from the Center for Extremism Prevention (Center "E) probably would.
Protests under the Strategy 31 campaign have been held across the country by Russian oppositionists every month with a 31st day for the past few years, dedicated to the 31st article of the Russian constitution for freedom of assembly. Almost without exception, Moscow city authorities have refused to sanction the rallies, and they have almost all ended with numerous arrests.