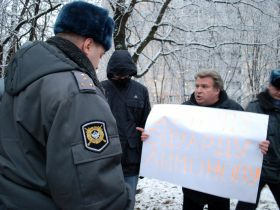 At least 20 supporters of a group of jailed opposition leaders have been arrested over the past two days, despite not having appeared to break any laws, Kasparov.ru reports.
The detentions began on Monday, when a group of opposition activists, journalists, and other supporters were standing in a line outside a Moscow detention facility, where opposition leaders Boris Nemtsov, Ilya Yashin, Konstantin Kosyakin, and Eduard Limonov are currently sitting out short-term jail sentences. The four were arrested in connection with an unsanctioned rally in defense of free assembly held on New Year's Eve, and received sentences from between 5 and 15 days each.
The supporters had lined up to take turns holding solitary pickets – the only form of protest legally allowed in Russia without prior government approval. However, a police bus soon arrived and the awaiting protesters were taken to a police station.
"They detained us on Simferopolsky Bulvar near the detention center," Aleksandr Rybkin, a leading member of the Solidarity opposition movement, told Interfax. "Twenty people were standing at the bus stop; we said we were going to replace one another in a solitary picket. The OMON simply surrounded us and shoved us into the bus. Now we're being sent to some unknown place."
According to Gazeta.ru, one Ekho Moskvy journalist was among those detained.
On Tuesday, pickets and arrests both continued, but with a twist: this time, said Other Russia activist Nina Silina, members of the Kremlin-backed youth movement Nashi joined the solitary picketers, thus nullifying the solitary – and legal – nature of the demonstration. Police arrested the picketers, Nashi members, and all activists lined up on the side waiting their turn to picket.
All detainees were released on Tuesday evening. According to Silina, the only persons charged with any crimes were Left Front coordinator Sergei Udaltsov and the Nashi members who organized the provocations, who were charged with violating the order of organizing public gatherings.
Udaltsov said that solitary pickets calling for the oppositionists to be released would continue no matter what.
The tactic of pretending to join a solitary picket in order to disrupt it is not uncommon.
Meanwhile, the US State Department has spoken out strongly against the New Year's Eve crackdowns and Boris Nemtsov's arrest in particular.
"We were pleased…that Moscow authorities had reversed their previous policy and decided to allow peaceful demonstrations. So we regret that these arrests have taken place, both in Moscow and St. Petersburg. We reiterate our – the importance of embracing and protecting universal values, including freedom of expression and assembly – they're enshrined in the Russian constitution – as well as international agreements that Russia has signed," Assistant Secretary of State Philip Crowley said on Monday.
"So we believe it is in Russia's interest to promote freedom of expression and, as we noted, this is something that Russian leaders have endorsed publicly, but now they need to follow through and – but these kinds of arrests, we think, are contrary not only to commitments that Russia has made, but also to Russia's long-term interest," he concluded.
Russian legislators rejected the criticism entirely. "We denounce this as interference in the affairs of a separate state," State Duma Deputy and United Russia member Mikhail Grishankov told Interfax on Tuesday.