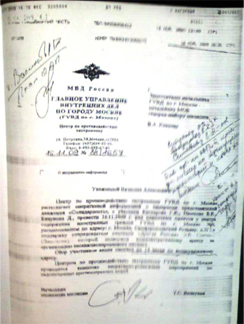 A high-level police memo ordering officers to disrupt a series of lawful protests has been obtained by opposition activists in Moscow, targeted for their calls to release arrested political activist Eduard Limonov.
Denis Bilunov, leader of the Solidarity opposition movement and among those detained, said activists were able to photograph a memo from Colonel Timur Valiulin of the Russian Interior Ministry's notorious Center for Extremism Prevention (Center "E") to Public Safety Police General Vyacheslav Kozlov, discussing "the necessity to take measures to disrupt the series of solo protests of the Solidarity movement" in support of Limonov. Limonov, a leader of the Other Russia coalition and the banned National Bolshevik party, was sentenced to ten days of administrative arrest on November 12 for "insubordination to a police officer" and participation in an "unsanctioned rally" on October 31.
Activists managed to photograph the document with a camera phone after an officer accidentally left it in view. Solidarity leaders intend to use it as evidence in a court case that they hope would close Center "E," criticized by Amnesty International for stifling dissent from journalists and activists and for torturing criminal suspects.
According to Solidarity member Ilya Yashin, who published the document on his blog, "The published paper is more than sufficient as a minimum for the prosecutorial review of the activities of this structure, consistently and blatantly in violation of the Constitution and the law."
Bilunov and seven other activists were detained on November 16 when their solo protests, which do not require sanction from authorities, were approached by men posing as activists wanting to join them. After the protests ceased to appear solo, police arrested all participants.
Boris Nemtsov, a former Deputy Prime Minister and co-founder of the opposition party Union of Right Forces, was among those detained. He calls the men, believed to be undercover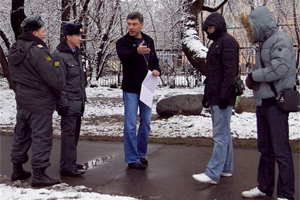 police, "simple provocateurs." He explained his support for Limonov on his blog:
"Many people ask me, how you, a political antipode of Eduard Limonov, defend him. The answer is that Limonov, organizing regular protests on the 31st date of every month, defends our and your right to rallies, processions, [and] demonstrations, as provided by the 31st article of the Constitution of the Russian Federation. Putin's regime is taking this right away from you systematically, absolutely illegally and cowardly."
Nemtsov further writes: "The arrest of Limonov for 10 days does not have any relationship to the law. He did not, naturally, show any insubordination to the police, first of all because he is experienced, and secondly, he is no longer a young man."
Leaders in the Communist Party have promised to raise the issue of Limonov's arrest and the arrest of the other activists in the State Duma. According to National Bolshevik member Sergei Aksenov, Communist Party leader Vladimir Kashin felt that "if this is how things continue from now on, then after a couple of years the Communist Party could also end up without our traditional processions on November 7, and our position on the freedom of speech and assembly must be asserted."
On Wednesday, Limonov's ten-day sentence was held up in court on appeal. Prominent human rights activist Lyudmila Alexeyeva blamed the decision on a growing trend of corrupt police commanders forcing officers to give false testimony in court.
The October 31 protest during which Limonov was arrested along with approximately 70 other oppositionists was part of the Other Russia coalition's "Strategy 31" movement, in which opposition leaders file applications to rally on Triumfalnaya Square every month with a 31st day, in reference to the 31st article of the Constitution guaranteeing freedom of assembly.
A full scan of the police memo and a corresponding transcription can be found on Ilya Yashin's blog (in Russian).