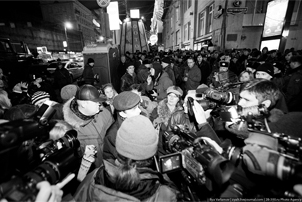 Approximately 70 people were arrested in Moscow at rally Saturday in defense of the constitutional right to freedom of assembly.
The rally turned violent when members of the pro-Kremlin youth organization Young Russia, which had been scattering fliers with the phrase "Western vampires were gathered here," began to light fireworks. Blaming the provocation on opposition protesters, police began making arrests and forced remaining protesters into a nearby metro station.
Ten activists temporarily escaped from an OMON special forces bus when they managed to tip it over from the inside and crawl out the back window. According to activist Sergei Aksenov, all those detained on the buses were severely beaten by police.
The unsanctioned protest was attended by about 500 human rights and opposition activists, including members of the United Civil Front, Solidarity, the banned National Bolshevik Party, and many others. An application to hold the protest was denied by city authorities.
The square had been cordoned off early on by police forces that included twenty OMON buses and internal military vehicles. Among those detained was Eduard Limonov, a leader of the Other Russia coalition and the National Bolsheviks, as well as activist Marina Litvinovich. Limonov had been dragged along the asphalt by police, and neither he nor Litvinovich were allowed access to lawyers.
All those detained, including members of Young Russia, were released later that night. Limonov and Litvinovich face charges of police antagonism in court on Monday. If convicted, they face 15 days of administrative arrest.
Early November is a time of traditional protest throughout Russia. Police on Thursday practiced new techniques for crowd dispersal that focused on pensioners.
Leaders of the Other Russia coalition file applications to rally on Triumfalnaya Square every month with a 31st day, in reference to the 31st article of the Constitution guaranteeing freedom of assembly. The previous three protests on May 31, July 31, and August 31 ended in the detention of activists.
A video of the protest can be seen by clicking here (in Russian).