All Posts Tagged With: "Lyudmila Alexeyeva"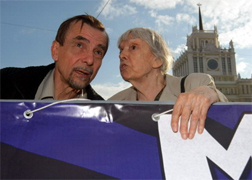 With the new law labeling NGOs that accept foreign funding as "foreign agents" coming into effect in the next month, Kasparov.ru spoke to several organizations to see how they were planning to deal with the repressive measures.
Sep 28, 2012 |
Continued

In light of Putin's decision to kick USAID out of Russia, on top of a law that already required NGOs that accepted funding from abroad as "foreign agents," RFE/RL interviews Lyudmila Alexeyeva to get her view on what the closure means for the country.
Sep 20, 2012 |
Continued

The Moscow Helsinki Group has announced that it will stop accepting funding from international sources after a law labeling such NGOs as "foreign agents" was passed on Friday, leaving it reliant on donations from within Russia.
Jul 14, 2012 |
Continued

Opposition activists across Russia held rallies in defense of free assembly on Tuesday, with dozens detained in Moscow, St. Petersburg, and other cities.
May 31, 2011 |
Continued

Numerous Russian oppositionists, human rights advocates, and activists have been arrested during opposition rallies held across Russia.
Mar 31, 2011 |
Continued

Lyudmila Alexeyeva has received approval from the Moscow mayor's office to hold a Strategy 31 rally in March in Moscow, while a different rally to be held by her former co-organizer, Other Russia party leader Eduard Limonov, was banned.
Mar 22, 2011 |
Continued

Lyudmila Alexeyeva and a group of other human rights activists plan to hold their own Strategy 31 rally in March on Pushkin Square, after negotiations with other organizers to fix a five-month split came to nought.
Mar 15, 2011 |
Continued

Human rights activists and oppositionists are holding negotiations to try and reunite for the next set of Strategy 31 rallies in March.
Mar 4, 2011 |
Continued

A group of prominent Russian human rights advocates have penned a letter to Dmitri Medvedev, asking him to take immediate action to put an end to the widespread use of torture in Russia's detention facilities.
Feb 23, 2011 |
Continued

The European Parliament has issued a scathing resolution on Russia's human rights situation, calling on the government to establish just and transparent courts and to respect the rule of law in the North Caucasus.
Feb 18, 2011 |
Continued