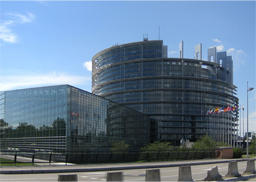 The European Parliament has issued a scathing resolution on Russia's human rights situation, RIA Novosti reports.
In a resolution issued on February 17, European deputies expressed concern over the guilty sentence in the second case against former Yukos CEO Mikhail Khodorkovsky and his business partner, Platon Lebedev, and called upon the Russian government to do everything necessary to establish a judicial system that corresponds with the promises of Russia's president to create just and transparent courts. The resolution referred to opposition activists, including Solidarity co-leader Boris Nemtsov, who were sentenced to jail after participating in a sanctioned rally in Moscow.
"Several judicial processes and lawsuits of the past several years have cast doubt upon the independence and impartiality of judicial institutions in the Russian Federation," reads the document.
The deputies also said Russia must respect human rights and the supremacy of law in the North Caucasus.
Russia was called upon to solve the murders of numerous Russian journalists and human rights activists and bring their perpetrators to justice. The deputies cited such victims as Natalya Estemirova, Andrei Kulagin, Zamera Sadulaeva, Alik Dzhabrailov, Maksharip Aushev, Stanislav Markelov, Anastasia Baburova and Anna Politkovskaya. The resolution also noted the situation with the death of lawyer Sergei Magnitsky in a Moscow pretrial detention facility.
"It's a very good, very concrete resolution that shows the European Parliament knows what's happening in Russia." Moscow Helsinki Group leader Lyudmila Alexeyeva told Kasparov.ru. "It's impossible to enumerate all of our problems, but the ones that are included in the resolution are significant."
According to Yevgeny Ikhlov of the Movement for Human Rights, the resolution shows that Western Europe sees Russia exactly the same way Russia's liberal opposition does. "This was clear before, thanks to diplomatic correspondence published on Wikileaks, but now they've said it officially," he said.
In contrast to previous resolutions, this one is complex and is dedicated to the complete collapse of the "Medvedev thaw," said Ikhlov. "Western Europe feels that, after three years of Dmitri Medvedev's rule, the country still has no rights, is mafia-like, and the exact same persecution of innocent and political opponents that was happening under Putinism is still going on. There hasn't been any thaw, all of it has been talk. It's not, of course, Belarus, but it's next on the list. In terms of a lack of democracy, Russia takes second place for Europe," he concluded.