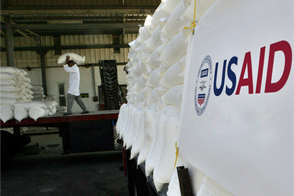 On Tuesday, Russian President Vladimir Putin's made a radical move to shut down USAID activities in Russia, putting the existence of many human rights, health, and other organizations into question. In light of this announcement, Radio Free Europe/Radio Liberty interviewed former Soviet dissident and Moscow Helsinki Group head Lyudmila Alexeyeva on what possible consequences this might have throughout the country:
RFE/RL: How important has USAID funding been to your organization?

Lyudmila Alekseyeva: It's not [just] about our organization. It's about the human rights sphere in [Russia]. I think it really helped.

In 1997, USAID issued a large grant for us to monitor the human rights situation in Russia. Of course, the Moscow Helsinki Group could not conduct work of this scale on its own and it worked together with human rights organizations from 80 different regions. Each of these collected material and compiled reports on the situation. We then did reports on the basis of this material.

We of course taught them how to work. This three-year grant helped lay the ground for monitoring work in our country."

RFE/RL: What impact will the cessation of USAID funding have in general in Russia?

Alekseyeva: Of course it will have very sad consequences. It will reduce the effectiveness of human rights organizations. But I think that the cessation of the work of USAID is entirely logical after the law on NGOs came into force requiring social organizations financed from abroad to register themselves as foreign agents.

If we decline to do this and if organizations like us decline to do this, then [the authorities] will still stop our activates and won't allow us to make use of their bank accounts. If we agree to register [as foreign agents], we also won't be able to [to work effectively] because a certain section of the population will stop trusting us because the authorities have created a psychological understanding that everything from abroad is hostile and aimed at Russia's demise.

Even worse, the Kremlin will probably issue an order to bureaucrats telling them not to cooperate with organizations that have registered themselves as foreign agents.

RFE/RL: In what ways will the Moscow Helsinki Group suffer specifically from the cessation of USAID funding?

Alekseyeva: We will remain without funding because we don't receive Russian financing. The state won't finance us because we defend citizens whose rights are violated by Russian bureaucrats. Our state won't fund that kind of organization. Business here won't finance us either because every businessman understands that if he finances an organization that is not useful to the authorities, then he puts his own business under threat.

We don't have any other sources of financing apart from abroad. It will seriously reduce the efficiency of our work. We won't be able to continue, for instance, our educational projects that we've had for many years.

RFE/RL: So how will you get around this problem in practice?

Alekseyeva: The Moscow Helsinki Group was founded in 1976 during the Soviet period, when of course there was no financing whatsoever either from abroad or from Russia. It received its first grant only in 1993, when it was already an internationally renowned organization.

We will lose the efficiency of our work. We will return to the way we worked in the Soviet Union. Twenty years after the collapse of the Soviet Union, human rights workers find themselves once again in the same position.

[We'll get around it by] volunteering. Back [in Soviet times], we distributed our documents on human rights violations through samizdat. Now it is much easier than it was back then.

Information will come to us — we can find out things through the Internet and people approach us directly via telephone or online. We will put out material on citizens' human rights violations.

RFE/RL: Why do you think the Russian authorities have made this move now?

Alekseyeva: Because now a serious attack is being carried out on all the rights of citizens — on their voting rights as well as their right to expression and on the right to unite. All of these rights are guaranteed by our constitution, but the authorities have already long forgotten about its existence.