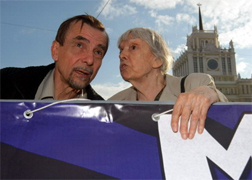 Russia's new law requiring NGOs to label themselves as "foreign agents" if they accept international funding is set to go into effect on November 1. Human rights leaders have thoroughly denounced the measure, and a number of organizations have announced that they are refusing to register accordingly. Kasparov.ru asked a variety of agencies how they were planning to deal with the new regulations.
Lyudmila Alexeyeva, head of the Moscow Helsinki Group, said that the group held a meeting with its regional partners and concluded that they did not intend to register as "foreign agents."
She added that some organizations could alter this decision, but in that case the Moscow Helsinki Group "would not direct its anger at those who fell apart, but at those who were broken apart." "Where is the Soviet government that tried to break us in the '70s?" asked the former Soviet dissident. "And we're still here. The repression is just tightening up."
Golos director Lilia Shibanova said that her organization is prepared for the coming persecution and intends to argue the measure in court – up to the Constitutional Court, if necessary.
"We are organizing a public campaign in order to show people what our position is and what kind of work we do," she said.
According to For Human Rights director Lev Ponomarev, it's necessary to "warn all non-commercial organizations in Russia about the danger of registering under the new law." He explained that following the new measures would entail having to turn down funding from international foundations, and that Russian businesses are "too frightened" to work with such organizations.
He also noted that even North Caucasian organizations, which are in a particularly difficult position since they are constricted by the federal government on one hand and radicals on the other, are refusing to register as agents.
"We need to remember that human rights organizations are a part of the protest movement and we need to stick clearly to this position," Ponomarev said.
Valery Boshchev, a member of the Social Partnership Foundation, believes that the government's actions towards human rights advocates constitute hysteria, and compared the "foreign agent" designation to the Nazi law requiring Jews to wear yellow stars. "We're going to put banners up everywhere, announcing: 'We aren't swindlers or thieves, just foreign agents. We don't take bribes and don't steal money,'" said foundation director Igor Chestin.
The all-Russian small and medium business organization Opora Russia also intends to take on the new designation, but along with the intent of holding an information campaign to tilt public opinion in their favor.
The new NGO law was signed by President Vladimir Putin on July 21. The approximately one thousand organizations that would qualify as "foreign agents" mostly do work in the spheres of education, charity, and human rights. The label is designated for organizations that receive foreign funding and also "do political work" inside Russia, which is defined to include "influencing public opinion."
A separate, additional measure was passed during its first reading in the Russian State Duma on September 11 to establish a one million ruble fine (about 32,350 USD) for agencies that refuse to properly register.
Experts have already noted numerous inconsistences and inaccuracies in the law and have asked for a number of terms to be more clearly defined. There is wide agreement that the measure is being used as an instrument of political repression.