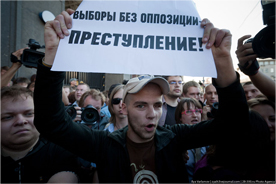 Update 06/01/11: Number of detainees in Moscow updated; note of Toronoto rally added.
Russian opposition activists held rallies in defense of free assembly in dozens of cities across the country on Tuesday in the latest iteration of the Strategy 31 campaign. As usual, dozens of demonstrators were arrested in cities where local authorities refused to grant permission for the rallies.
In Moscow, an estimated 60 people were detained at an unsanctioned rally on Triumfalnaya Square, including, as has become customary, Other Russia party leader and rally co-organizer Eduard Limonov, Solidarity co-leader Ilya Yashin, and Left Front leaders Sergei Udaltsov and Konstantin Kosyakin. According to photojournalist Ilya Varlamov, it was very difficult to estimate the number of attendants, but it was likely no more than 300.
In a break from recent tradition, Limonov's Strategy 31 rally was the only one held in Moscow on Tuesday. Leading Russian human rights advocate and former Strategy 31 co-organizer Lyudmila Alexeyeva, who for the past several months has successfully received official approval to hold her own Strategy 31 rallies, has chosen to organize different demonstrations on different days of the month.
The first to arrive on Triumfalnaya Square were Yashin, Udaltsov and Kosyakin, for whom Strategy 31 rallies usually with their detentions by police. This time was no different, as the three were arrested before they even had a chance to speak to clamoring television reporters – OMON riot police forced their way through a group of journalists to reach the opposition leaders. Similarly, Limonov was arrested as soon as he climbed out of his car.
Another traditional participant of the Strategy 31 rallies, Boris Nemtsov, was this time in Nizhny Novgorod, where activists held their own rally in defense of free assembly. Nemtsov, who came to the rally accompanied by his mother, signed several copies of his report "Putin. Results" for those present. Local police made no attempts to detain him.
"Recently, everyone has argued so much that it's unclear how many people were coming and what they were going to do," a rallier on Triumfalnaya Square told Gazeta.ru. Protesters did seem less prepared than usual – no flags or posters were seen in the crowd, and only a handful of people had badges with the number 31 pinned to their shirts. At the same time, organizers say that a demand for free and fair elections has officially been added to the Strategy 31 campaign.
Because Triumfalnaya Square itself continues to be blocked off for construction, ralliers were forced to gather along the bordering sidewalks – until police set upon them from both sides. Many were brutally pushed around; one woman cried out into the crowd, "they have no wives, that's why they grope us!"
Cries of "freedom!" and "shame!" also sounded from the crowd, but police had almost entirely cleared the square of oppositionists half an hour after the rally had begun.
On the other side of the square, a small group of environmental activists calling for the defense of the Khimki Forest and representatives of a group called the Free Radicals tried to hold a small march, but were literally thrown to the ground by police after only 10 meters. Police then began to carry off the demonstrators; Sergei Konstantinov, head of the Free Radicals, howled at the top of his lungs until police brought him out of the view of journalists.
Police figures cite 26 detainees altogether on Triumfalnaya Square Tuesday night, while rally organizers put the number at 60. As usual, rally leaders are being charged with organizing an unsanctioned demonstration. They face up to 15 days of administrative arrest.
Strategy 31 rallies were also held in dozens of other Russian cities, some with arrests. In St. Petersburg, approximately 100 demonstrators were detained, including at least one minor, at two unsanctioned demonstrations. A heavy police and separate "monitoring" presence was noted at a rally in Omsk, and protesters were forced to hold solitary pickets in Blagoveshchensk after local authorities refused to sanction a larger demonstration – on the basis that 500 visiting Chinese children were scheduled to play in the square.
Rallies in solidarity were also held in New York City, Toronto, London and Rome.
Article compiled from reports by Gazeta.ru and Kasparov.ru.