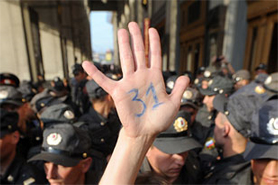 Human rights advocates and representatives of the Russian opposition are holding negotiations in an attempt to mend a split between organizers of the Strategy 31 rally campaign in defense of free assembly, Kasparov.ru reports.
Oleg Orlov, head of the Memorial human rights center, said on Friday that a group of civil activists will serve as mediators during confidential negotiations over possibly holding the next Strategy 31 rally, set for March 31 on Moscow's Triumfalnaya Square, jointly between oppositionists and human rights activists.
Orlov did not specify precisely who would be taking part in the talks, but said the results "will be made public."
Until October 2010, Strategy 31 rallies in Moscow were organized by Moscow Helsinki Group head Lyudmila Alexeyeva, Left Front representative Konstantin Kosyakin, and Other Russia party leader Eduard Limonov. For more than a year, the city refused to sanction the rallies and instead proposed alternative locations that would have isolated the protests from public view. The group split apart after Alexeyeva reached an agreement with city authorities to obtain sanction for a rally on Triumfalnaya with a limit of 800 participants. Limonov and Kosyakin insisted that no such limits should be imposed, and since then dual rallies have been held on the square on the 31st of each date – one sanctioned and one not.
Limonov was pessimistic about the negotiations. "We're probably going to take part, talk a bit, have a look, but I don't have faith that it will be successful," he told Kasparov.ru.
In his words, the split between organizers separated those willing to compromise with the government from those who were not. Therefore, negotiations between the two groups will not lead to any result, he said.