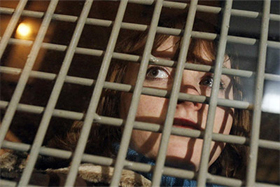 Update 02/01/11: Details added regarding a raid on the Strategy 31 organizational committee office.
Rallies under the Strategy 31 campaign were held in 70 Russian cities on Monday, continuing the Russian opposition's call for the government to obey the right to free assembly as guaranteed under the 31st article of the Russian constitution. Some of the rallies were sanctioned by the government and others were not, but none of this seemed to make an impression on police who assaulted and arrested dozens of demonstrators and accidental bystanders – without regard, necessarily, to the legal status of the event they were attending.
In Moscow, per recent tradition, two rallies were held simultaneously on Triumfalnaya Square. A sanctioned one was coordinated by longtime human rights activist Lyudmila Alexeyeva, who until recently organized the rallies together with Other Russia party leader Eduard Limonov. Limonov, who is routinely arrested for holding unsanctioned Strategy 31 rallies, was the organizer of Monday's unsanctioned event. Both had applied for permits with the Moscow mayor's office, but only Alexeyeva's was granted, with a cap on the number of participants set at 1000 people – lower than her request of 1500. Limonov reported earlier that his application requested a cap of 2500 ralliers.
The city government planned ahead to prevent any possible unsanctioned activities on the square. By 1:00 pm Moscow time, the entrance to Triumfalnaya Square from Tverskaya Ulitsa was surrounded by two dozen Ural trucks (normally used for transporting soldiers), with another three police buses parked on the square itself. Metal detectors were set up to separate ralliers attending the sanctioned or unsanctioned events.
As usual, estimates of the number of rally participants varied. Interfax claims 700, Gazeta.ru – 1500, Lev Ponomarev – 2500, and the Moscow city police claim there were 500 ralliers and 100 journalists present at the square.
The rally kicked off at 6:00 pm with a speech by human rights leader Lev Ponomarev, followed by Lyudmila Alexeyeva and Solidarity co-leader Boris Nemtsov. Provocators attempted to unfurl a banner during Nemtsov's address but were prevented by the ralliers. Among cries of "Russia without Putin" and "down with the government of thieves," satirist Viktor Shenderovich and leading environmental activist Yevgenia Chirikova gave their own speeches. Chirikova called on participants not to be afraid and to bring their friends to the next Strategy 31 rally on March 31. She closed her presentation with a cry of "freedom to political prisoners," which the square took up as a whole. Politician Vladimir Ryzhkov and Solidarity member Ilya Yashin also spoke and the rally concluded with a general call: "Vova, get out!"
As had been planned, Limonov's followers in the Other Russia party set off on a march towards the Kremlin after the sanctioned rally was over. According to a Kasparov.ru correspondent, between 30 and 40 people marched along the sidewalk of Tverskaya Ulitsa chanting "Russia without Putin" and, when passing the mayor's office, "Sobyanin, resign" and "give us mayoral elections." Upon reaching the Kremlin, the protesters dispersed into the metro. Police videotaped the event but made no arrests.
The first reports of detentions and other unlawful police behavior at the rally, however, came in early in the evening. One Gazeta.ru correspondent witnessed OMON riot police dragging several young people headed towards the sanctioned rally into a bus. Through the glass, one could see police kicking the protesters and beating them with truncheon.
Among the detainees was Solidarity activist Anastasia Rybachenko, who was recently detained in Minsk in an opposition demonstration following presidential elections in Belarus. She confirmed by telephone that Moscow police were beating detainees in the buses, and she herself had an injured hand and was bleeding. The other detained activists hailed from Solidarity and Oborona, she said.
According to Kasparov.ru, Eduard Limonov was detained directly upon arriving at Triumfalnaya Square. Earlier, Other Russia party member Aleksandr Averin reported that police had raided the offices of the Strategy 31 organizational committee. The apartments of two Other Russia party members were also raided the same day. The raids, said Averin, was carried out in connection a criminal suit had been filed for "issuing calls to participate in massive disorders" in connection with the December 11 ultranationalist riots on Manezhnaya Square. Since Limonov was detained outside his home on his way to the last Strategy 31 rally, he invited the press to his apartment on Monday evening so that there would be evidence if this happened again.
Left Front coordinator Sergei Udaltsov was detained on the metro at 5:30 pm, apparently on his way to the rally, under suspicion of having used a counterfeit ticket. He was released an hour later.
Pyotr Shkumatov, an activist with the Blue Bucket Society, was also among those detained. He reported that accidental bystanders had also been arrested.
All in all, a total of 54 people were detained at the Moscow rally, by Kasparov.ru's estimate. Moscow city police put the number at 20.
The day before the rally, Svoboda News spoke with Vladimir Ryzhkov about his participation in Strategy 31:
"I'm taking part in the rally organized by Lyudmila Alexeyeva, Lev Ponomarev and other human rights advocates. But I am absolutely outraged that Eduard Limonov time and again is refused sanction for peaceful, nonviolent actions. This is a blatant and rude violation of the constitution and of Russian legislation. In this case, the government is trampling on human rights. It is absolutely outrageous and unacceptable.

The action on January 31 has special meaning. It is being held soon after Boris Nemtsov, Eduard Limonov and other unlawfully detained and prosecuted figures were released from jail. We are obligated to express our outrage and dissent with the actions of the authorities."
According to the Associated Press, Boris Nemtsov compared Russian Prime Minister Vladimir Putin to Egyptian President Hosni Mubarak, who is being called on to resign by a relentless surge of protesters.
"Please, someone tell me how our leadership differs from his," Nemtsov shouted to the ralliers. "Russia has to get rid of Putin."
However, National Public Radio erroneously reported that Monday's Strategy 31 protests were sparked by the unrest in Egypt.
There were far more arrests at a much smaller Strategy 31 rally in St. Petersburg. At Gostiny Dvor, police detained 100 of the 500 protesters taking part in an unsanctioned rally organized by the local branch of the Other Russia party. Activist Ravil Bashirov began the event by enumerating a series of basic freedoms and calling on the government to observe them. Among these, he said, were the freedoms of speech, assembly, and the right to hold elections. He was detained immediately after his speech.
Witnesses said police were brutal when detaining ralliers. "The OMON were definitely brutal this time around," said one Other Russia party member. "They rounded people up, dragged them into paddy wagons, beat some of them. And at the end they began detaining passersby and members of the media."
Despite a heavy police presence, no one was detained at a second unsanctioned Strategy 31 rally in St. Petersburg, this one organized by Solidarity and the United Civil Front. About 100 people came out to the rally, which was held on Dvorotsovaya Square.
Strategy 31 rallies were also held across Russia in the cities of Omsk, Kurgan, Kirov, Sochi, Yekaterinburg, Perm, Blagoveshchensk, Voronezh, Sergiyev Posad, Murmansk, Kemerovo, and others. Several of them reported unlawful detentions.
Click here for photographs of the rally in Moscow.
More photographs of the Moscow rally.
Click here for photographs of the march to the Kremlin.