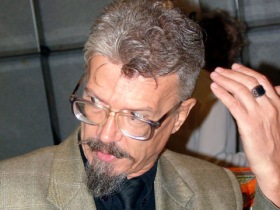 Despite some unexpected obstacles, Russian opposition politician Eduard Limonov has officially applied to be registered as a candidate for Russian president, Kasparov.ru reports.
On Wednesday, the Central Electoral Commission (CEC) accepted the documents required to file the request. "Commission member Elena Dubrovina gave Limonov a document confirming that the necessary documents have been submitted in the appropriate form and within the appropriate timeframe," said Aleksandr Averin, executive committee member of Limonov's Other Russia party.
According to Averin, the CEC should announce whether it will or not it will register Limonov on December 20 – four days before opposition activists have scheduled another mass demonstration to protest what they say are fraudulent parliamentary election results.
Generally marginalized by the Kremlin and Russia's state-run media, Limonov was nearly prevented from gathering the proper number of signatures needed to apply for registration when a December 11 meeting of his supporters was suspiciously cancelled.
Writing on his LiveJournal, Limonov described how police had hung banners explaining that the building where the meeting was to be held was cancelled due to "urgent repairs."
The oppositionist described the conversation between him and an officer at the scene:
Me – You are violating the law, by law we have the right [to hold this meeting]; on November 30 I submitted a written announcement to the CEC that we would be holding a meeting to launch my candidacy at precisely this address, since we paid rent and so on.
Lieutenant – The police have nothing to do with this, the property owners are making repairs… we were called in to keep order.
Me – This is a political crime… they were holding meetings in these very auditoriums yesterday evening…
The abrupt closure was eerily similar to tactics used to prevent opposition leader Garry Kasparov from running for Russian president in 2007.
Russian electoral law requires 500 signatures to be collected at a meeting of a potential candidate's supporters in order for the candidate to be registered. Forced to collect signatures in a nearby bus, Limonov nevertheless obtained 800.