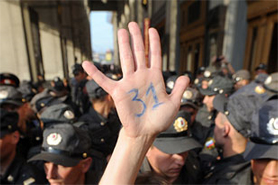 The Moscow city authorities have given permission for a group of human rights activists to hold a rally in defense of free assembly on Triumfalnaya Square on December 31, Kasparov.ru reports.
Lev Ponomarev, head of the movement For Human Rights, said on Monday that the mayor's office had approved an application he had filed jointly with rights advocates Lyudmila Alexeyeva, Oleg Orlov, Valery Borshchev, Roman Dobrokhotov, Khimki Forest activist Yevgenia Chirikova, and others.
For the past year and a half, opposition and rights advocates have been holding rallies in defense of free assembly on Moscow's Triumfalnaya Square on the 31st of each month with that date under the Strategy 31 campaign. However, the last rally in October was split in two when the three original organizers – Alexeyeva, Eduard Limonov, and Konstantin Kosyakin – fell into irreconcilable disagreement.
A recent meeting between the three organizers ended in similar disagreement. In the end, Alexeyeva and the aforementioned rights advocates have chosen to hold their own rally, while Limonov and Kosyakin will hold another rally at the same time and place in conjunction with former Soviet dissident Vladimir Bukovsky.
The oppositionists' disagreement in October arose over the number of participants that the city gave permission to attend the rally. After conferring with Alexeyeva, the Moscow mayor's office approved a rally for 800 people – short of the 1500 usually present at Strategy 31 events, leading Limonov to defect.
It was not immediately clear how many people would be allowed to attend the December 31 rally headed by Alexeyeva and Ponomarev or whether permission would be granted to Limonov and Kosyakin for their version of the rally.