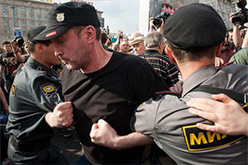 The Russian government is doing what it can to brush off the aftermath of Monday evening's Strategy 31 rally on Moscow's Triumfalnaya Square, where police were witnessed brutally suppressing protesters who came out to defend the constitutional right to free assembly.
Dmitri Peskov, press secretary for Russian Prime Minister Vladimir Putin, said that the prime minister was aware of Monday's events, but stressed that the rally was not held in a location sanctioned by the Moscow city government.
"The prime minister, of course, knows about the demonstration. He knows, in particular, where it was given permission to be held and where it was actually held," said Peskov.
Putin made a guarded statement last week that protests should always be allowed if their participants follow the law, after being confronted about the issue by a Kremlin-critical rock musician. But as the Moscow Times points out:
City officials banned the rally on Triumfalnaya Ploshchad, saying an authorized pro-Kremlin rally was already scheduled to take place instead.

Preventing unwanted public gatherings by holding official rallies is a well-known tactic. In his 2000 book of interviews, "From the First Person. Conversations with Vladimir Putin," Putin admitted to using it himself when working in the St. Petersburg administration in the 1990s.
When asked what the prime minister thought about the actions of the police – which included detaining up to 170 people, beating dozens of them, holding them for hours in buses that were more than 95°F, shattering one man's arm, and manhandling a World War II veteran – Peskov declined to comment.
Any discussion of the incident was blocked in the State Duma on Wednesday by United Russia, the country's leading political party headed by Vladimir Putin. Communist Party Deputy Sergei Obukhov tried to raise the issue but was shot down by First Deputy Speaker Oleg Morozov, who condemned him for giving an unsanctioned presentation.
Meanwhile, Moscow Human Rights Ombudsman Aleksandr Muzykantsky said that he takes issue with the fact that youth activists routinely hold events on Triumfalnaya Square on the 31st of every month – the same time the Strategy 31 rallies are meant to take place – thus providing the city government with a formal way to refuse to sanction the oppositionists' event.
"It brings to mind how in the 20s of the last century they [Stalin loyalists – ed.] would disrupt Trotskyist meetings by using young people who stirred up fights. Those who disrupted the meetings were, in the end, convicted of taking part in Trotskyist rallies," said Muzykantsky, as quoted by Interfax. "Young people were used cynically, and then they were thrown out."
He added that he pitied the young people who are attracted to taking part in the events that are meant to disrupt the Strategy 31 rallies.
Russian Human Rights Ombudsman Vladimir Lukin, who joined Muzykantsky at Monday's rally as an observer (and who police attempted to arrest), called the detentions "illegal" and said that the idea of a "sanctioned action" does not actually exist in Russian legislation. Instead, according to the constitution, organizers are only required to notify the local government if they plan to hold a large demonstration, he said.
Just as a two-day summit between Russia and the European Union wrapped up on Tuesday, EU representatives said that they knew of Lukin's comments and promised to investigate Monday's actions by the Moscow police.
Michael Webb, the deputy in charge of the EU delegation, said that "on the whole, the European Union supports Russia so that it fulfills the obligations that it undertook as part of the Council of Europe. And also so that it realizes civil rights as secured by the constitution. In particular, the right to free assembly and free speech."