All Posts Tagged With: "Ekho Moskvy"

In this blog post for Ekho Moskvy, journalist Anton Orekh questions whether Russia's pending anti-Magnitsky legislation is itself a threat to Russian interests.
Dec 20, 2012 |
Continued

A new United Russia legislative measure is in the works to give the ethics committee the right to revoke deputies of their status simply for making public statements that discredit the State Duma or have an "anti-state orientation."
Jul 16, 2012 |
Continued

Russian police broke up an opposition camp for distributing water and kvas, which authorities said they did not have proper documentation to distribute; Ilya Yashin was sentenced to ten days arrest.
May 20, 2012 |
Continued

Reports have surfaced that St. Petersburg city officials have allegedly ordered copies of a magazine to be confiscated on account of a critical article about Valentina Matvienko.
Jul 14, 2011 |
Continued

Amnesty International is calling for an investigation of a Memorial rights activist who was beaten in Moscow, suspectedly by police.
Dec 9, 2010 |
Continued

Moscow authorities say they're willing to allow 800 people to take part in an opposition rally on October 31, but rally organizers disagree on whether to accept the proposal.
Oct 25, 2010 |
Continued

Human rights advocates are calling on Moscow's interim mayor to take the opportunity to improve the political situation in the city – but opposition protests are still being banned.
Oct 1, 2010 |
Continued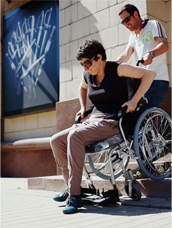 A group of well-known Russian personalities held a rally to bring attention to the daily hardships faced by handicapped persons living in Moscow.
Aug 27, 2010 |
Continued

An outdoor installation set up by a pro-Kremlin youth group depicting Russian civil rights leaders as Nazis has drawn derision and outrage from within Russian civil society.
Jul 28, 2010 |
Continued

The Russian president spoke at the official opening of the St. Petersburg International Economic Forum on Friday, pledging to shape fiscal policy in order to turn Russia into a country that people would strive to make "their new or second home."
Jun 18, 2010 |
Continued