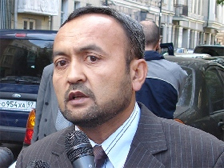 The international human rights organization Amnesty International is calling for an investigation of an attack on rights advocate Bakhrom Khamroev, Ekho Mosvky reports.
Khamroev, a member of the Russian civil rights society Memorial, was attacked in Moscow on December 7.
According to Interfax, the rights advocate was visiting an acquaintance – a Russian citizen who emigrated from Kyrgyzstan – who had called Khamroev and complained that armed men had broken into his apartment.
"Bakhrom came out to the place. They didn't let him in the apartment, they forced him to leave the entrance," said Oleg Orlov, head of Memorial. "Then a man came out of a microbus parked nearby – we know the number – and asked Bakhrom several questions and suddenly hit him several times on the head. Bakhrom lost consciousness and was hospitalized."
The leadership of Memorial believes that Khamroev was beaten by law enforcement officers.
Khamroev had previously been attacked in January 2007. The human rights activist was beaten by three men and suffered from a concussion.