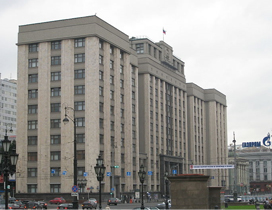 A committee in the Russian State Duma may be granted the right to remove deputies from their posts without going through the courts, if a new measure by United Russia deputies passes, Ekho Moskvy reported on Monday.
Citing an article in the newspaper Vedomosti, the radio station said that the leading party was preparing legislative amendments to this end in response to recent moves by oppositionists in the Duma.
The fate of the deputies would be put in the hands of the Duma Commission on Ethics as well as parliamentary leadership. If the amendments are passed, deputies could be deprived of their status simply for receiving a disciplinary reprimand.
According to the paper, the project is being spearheaded by United Russia Deputy Vladimir Pekhtin, who heads the ethics commission and already previously developed the basics of the amendments. He proposed that deputy mandates be taken away, in particular, for "malicious non-attendance" of legislative sessions, for refusing to disclose salaries, for personal travel abroad on their diplomatic passports, or for making public statements that discredit the parliament or have an "anti-state orientation."
Currently, deputies can have their status revoked only after being convicted of a crime by a court of law. While the Duma is already closed for the rest of the summer, the measure may be considered as soon as sessions resume.
The idea for the amendment first came after a group of deputies from A Just Russia held a filibuster in June to try and delay the passage of a bill to severely increase fines for violating regulations on public protests. Eventually the measure was passed after the deputies staged a walk-out. Opposition politicians fear that Pekhtin's measure would allow United Russia to carry out its own purge of the Duma. Speaking to Vedomosti, Communist Party Deputy Vadim Solovyov argued that it would contradict both the spirit and the norms of the Constitution.
Earlier, State Duma Speaker Sergei Naryshkin told ITAR-TASS in an interview that the opposition walk-outs constituted a threat to Russia's parliamentary system.