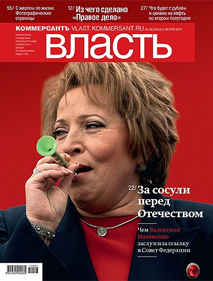 Reports have surfaced that at least 90% of the issues of the weekly Kommersant supplement magazine Vlast have been confiscated from newsstands in St. Petersburg – according to unofficial sources, at the behest of city administrators, Ekho Moskvy reports.
Kommersant learned that the magazine has virtually disappeared from newsstands only after receiving reports from its readers. Representatives of the publication then went around to several dozen retailers and were consistently told that copies of Vlast had either been sold or were returned to distributors as unsold, despite the fact that a new copy of the magazine is not due to come out for another several days.
The issue in question, dated July 4, is largely dedicated to the upcoming resignation of largely unpopular St. Petersburg Mayor and United Russia member Valentina Matvienko, who was controversially chosen by President Dmitri Medvedev last month to become Speaker of the Federation Council. The soon-to-be-former mayor is pictured on the cover blowing a small horn with a quote that plays on the Soviet-era award "For Service to the Fatherland" – only here the word "service" is replaced by a term made up by city authorities for the gargantuan icicles that killed a record number of residents this past winter. Matvienko was widely criticized for failing to keep streets clear of snow and ensure that icicles be removed from buildings before they could harm pedestrians. The article itself discusses her successes and failures in office, her strained relationship with the president, and the possibility that her new position may simply be an honorable discharge from Russian politics.
According to Ekho Moskvy, the newspaper is not ruling out the possibility that the issue angered the city administration. On condition of anonymity, a representative of one of two companies that distribute 90 percent of all the copies of Vlast throughout St. Petersburg told Kommersant that the order to cut off distribution came directly from the St. Petersburg City Printing Committee; the company made no official statement. A representative of the second company did make an official statement that no copies had been confiscated from retail outlets.
Printing Committee head Aleksandr Korennikov told Kommersant that he was unaware of any confiscations.