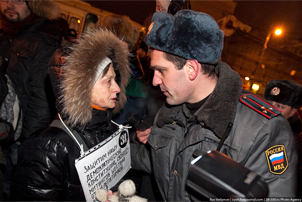 Police have detained approximately 160 protesters at a rally in central Moscow in defense of the right to freedom of assembly, Kasparov.ru reported Sunday night.
The Rally of Dissent on Triumfalnaya Square, part of the ongoing Strategy-31 initiative by the Other Russia coalition, saw an increased number of participants compared to recent events. Opposition groups put estimates at between 700 and 1000 protesters.
Among those detained were former deputy prime minister and leader of the Solidarity opposition movement Boris Nemtsov, Solidarity leader Ilya Yashin, prominent political activists Roman Dobrokhotov and Nikolai Lyaskin, Memorial human rights organization chairman Oleg Orlov, and Lev Ponomarev of the organization For Human Rights.
Also detained was National Bolshevik leader Eduard Limonov, who organized the rally together with former Soviet dissident and prominent rights activist Lyudmila Alexeyeva and activist Konstantin Kosyakin. Limonov was detained several minutes after appearing at the rally, but was able to answer several questions from journalists.
"We, the citizens, have the right to be here on this square," Limonov declared. "Whether the police have this right is a big question."
Law enforcement officials, which included internal military forces and the notoriously brutal OMON police forces, were reportedly harsher than usual in their treatment of detainees. Eyewitnesses noted that a girl, bloody after being beaten by police, was among those in an OMON bus on its way to a police station.
Protesters attempted to block the road when the buses began to depart from the square, but were dispersed by police.
Journalists, photographers and cameramen had been cordoned off early in the evening into a small space near the exit of a nearby metro station.
The large number of participants, however, was somewhat overwhelming for the police.
"Usually they manage to detain all the activists in 30 minutes," said photographer Ilya Varlamov, "but this time it took two hours."
Many protesters clipped tags to their coats with the phrase "Article 31 of the Russian Constitution," providing for freedom of assembly, which they hoped would inform the police of "what they were detaining."
Sunday marked Nemtsov's first time participating in the series of rallies, dubbed Strategy 31 by its organizers. "I haven't participated up until now in the rallies on the 31st," the former deputy prime minister said on his blog. "It seemed to me that with Limonov in charge, it wasn't worth our ideological differences. On December 31, my attitude toward the rallies changed. It became shameful, upon seeing that while we drank champagne and snacked on olivye, OMON officers were driving the distinguished Lyudmila Alexeyeva onto a police bus."
The rally on December 31 ended in the detention of approximately 60 of 400 activists present, including the 82-year old Alexeyeva. Her arrest in particular drew immediate scorn from domestic rights groups as well as the United States and various European governments.
Like all previous Rallies of Dissent, Sunday's demonstration was held without official sanction from the Moscow city authorities. While organizers submitted a proper application, the mayor's office stated that "winter festivities" had been planned for Triumfalnaya Square on Sunday evening and advised them to pick another location. Organizers of the rally maintain that federal authorities are simply continuing to do whatever they can to block citizens' rights to exercise freedom of assembly.
Analagous rallies were also held on Sunday in St. Petersburg, Astrakhan, Irkutsk, Krasnoyarsk, Omsk, Murmansk and other cities througout Russia.
Valmarov's photographs of the rally can be seen by clicking here.