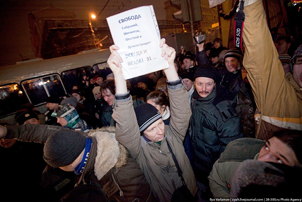 Leaders from the Other Russia coalition announced plans on Thursday to appeal to the European Court of Human Rights in Strasbourg in defense of their right to hold a demonstration in defense of the constitution, after being repeatedly denied sanction by Moscow city authorities.
The coalition leaders also plan to appeal to Russia's Constitutional Court.
Moscow authorities claimed that the rally would not be allowed due to "winter festivities" that were already scheduled to take place on Triumfalnaya Square, where the Other Russia has traditionally held its Rallies of Dissent.
This month marked the seventh time that the rallies were denied sanction by the Moscow authorities. Coalition leaders began holding the rallies in 2009 on the 31st of every month with that date , in defense of the 31st article of the Russian constitution guaranteeing freedom of assembly. Each has been banned under a variety of pretexts, but organizers have held the protests nevertheless.
"Most likely, it's not the Moscow government that's deciding our fate every time," rally organizers said in Thursday's statement. "Apparently, it's the federal authorities that are making the decision, and this is a political decision that contradicts the constitution." Among the organizers was 82-year old Lyudmila Alexeyeva, a former Soviet dissident and prominent rights activist who was among 60 people detained at the last rally on December 31, 2009. Each of the other protests has ended in a similar manner.
"You have turned Russia into a police state," the statement continues, addressing the Russian authorities. "The citizens of Russia have been robbed of politics, robbed of elections at all levels: from governors to the deputies of local assemblies. We are trying to win back a small square."
Beginning this month, regional Other Russia leaders will begin to hold the Rallies of Dissent in St. Petersburg, Astrakhan, Irkutsk, Krasnoyarsk, Omsk and Murmansk in addition to Moscow.
Organizers in St. Petersburg have already turned to the courts to defend their right to hold the January 31 rally. Officially, city authorities have banned the demonstration on the basis that it would block traffic around the central Gostiny Dvor shopping complex. Organizer Andrei Dmitriev maintains that the charge is contradictory, and says that while he hopes the courts will allow the protest, it will be held regardless of the judicial outcome.