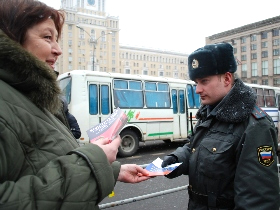 Approximately a thousand Russian opposition activists came together on Moscow's Triumfalnaya Square on Saturday to call both for police reform and for police officers' rights, Kasparov.ru reports.
In a move that was both practical and symbolic, activists had prepared 50 thousand copies of the Russian constitution to hand out to police charged with manning the event. Renowned rights activist Lyudmila Alexeyeva, who was detained in a New Year's Eve protest despite being 82 years old, had signed each copy with the phrase "in kind remembrance."
None of the officers present turned down their copy of the document.
A wide variety of opposition movements were represented at Saturday's rally, and many made speeches chronicling their clashes with police violence and abuse of authority.
"I very much love the police that protect me, but I rarely see them," said writer Viktor Shenderovich. "More often, I see the cops that beat and murder." He stressed that the necessity for drastic police reform is a result of Russia lacking free elections, a free press, and free courts.
Referring to Russian President Dmitri Medvedev's stated goal of wiping out corruption, White Ribbon movement representative Lyubov Polyakova pointed out that whistleblowing officers, such as Aleksei Dymovsky, had been poorly received when responding to the president's call. "Look what they've done to them!" she said. "You don't want to get rid of corruption; you say that we're rocking the boat."
"Yes, we're rocking your rotten boat, which you, like beetles, have already completely eaten through," Polyakova concluded.
Major Dymovsky was detained not long after posting two videos on YouTube in November that detail corruption in the Novorossiysk police department.
Sergei Davidis, coordinator of the Union of Solidarity with Political Prisoners, appealed to the officers themselves. Remarking that the rally was calling for rights for the officers, he asked whether they really wanted to work for such paltry salaries and extort bribes to get by, and whether they really, after all, wanted people to hate them.
Solidarity movement member Anastasia Rybachenko stressed the importance of new methods for hiring law enforcement officers. "People who enter the police force intend to get police batons and power," while others join simply to avoid Russia's mandatory draft, she said. With the Internal Ministry scraping the bottom of society's barrel and paying officers next to nothing, it follows that the resulting police force is less than ideal.
Vladimir Lukin, Russia's federal designate on human rights issues, was noted among those present at the rally.
A resolution taken at the end of the demonstration called for the management of the Internal Ministry to be fired, that political persecution of whistleblowing officers be put to a stop, and that police force not be used in political investigations.
Two groups of counter-protesters attempted to disrupt the rally. Some cast leaflets into the crowd that were printed to look like hundred dollar bills, reading "these dollars are payment for the collapse of the police in Russia." Members from one group were detained.
While the Russian police have long been notorious for their violent abuse of authority, they came under particularly harsh criticism after Major Denis Yevsyukov killed three and wounded dozens more in a Moscow supermarket while drunk late last April. With the renewed wave of media attention to police abuses that followed, prominent government and public officials began calling for the Internal Ministry to be dissolved. Last December, Russian President Dmitri Medvedev ordered the Ministry to be extensively reformed, and in a January 24 statement said that the number of police personnel "needs to be reduced and wages should be raised."
In the meantime, scandalous incidents of police brutality show no signs of slowing.