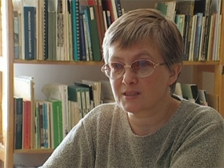 An organization of Russian ecologists in the Siberian city of Irkutsk is being pressured by police for their criticism of the reopening of a paper mill that would dump tons of toxic waste into nearby Lake Baikal, Kasparov.ru reports.
In a press release issued on Monday, ecologists at the Baikal Environmental Wave expressed concern that police officers had been visiting the homes and places of work of members of the organization. Among those officers were agents from the notoriously brutal Center for Extremism Prevention, commonly known as Center "E" and accused by Amnesty International of torturing detainees.
Over the course of "discussion" with ecologists' relatives, says the statement, officers made disparaging remarks about the Baikal Environmental Wave and co-leader Marina Rikhvanova.
Rikhvanova told Kasparov.ru that the police most likely obtained the ecologists' home addresses from computers confiscated from the organization at the end of January, supposedly for using unlicensed software.
The ecologists believe that the police visits and confiscations are a direct result of the organization's protest against the reopening of the infamous Baikalsk Pulp and Paper Mill. In particular, Rikhvanova was critical of a notification from the city sanitation department, which claimed that the mill would clean its sewage before dumping it into Lake Baikal, the world's largest freshwater lake and a UNESCO World Heritage Site.
"But nobody knows how they're going to clean it, or if they're going to clean it at all, because all of the cleaning equipment is kept out under the open sky and, as the mill's management said earlier, a minimum of three months of above-freezing temperatures are required to start it up," Rikhvanova explained.
The organization is planning to hold a rally in defense of the lake on March 20.
After decades of protests, the Baikalsk Pulp and Paper Mill was closed in October 2008 due to environmental concerns regarding the mill's discharge of toxic waste into Lake Baikal: Over the course of 40 years of operation, toxic discharge created dead zone in the lake of more than 12 square miles. Hundreds of tons of waste stored in open-air pits have created more air pollution than almost anywhere else in Russia.
Despite this, Russian Prime Minister Vladimir Putin signed a decree in mid-January to change the environmental laws previously prohibiting waste from being dumped into the lake, thus allowing the mill to resume operations. Approximately two thousand people gathered in protest on February 13, demanding that the mill be closed, that mill owner and oligarch Oleg Deripaska be held accountable, and that Prime Minister Putin resign. Police responded to the protest with greatly excessive measures, calling out armored vehicles and a small tank to flank the demonstrators.