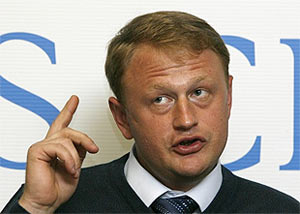 Former Russian Police Major Aleksei Dymovsky has been arrested and placed in a criminal investigative detention center, reports Gazeta.ru. Investigators charge that Dymovsky, who they were investigating for fraud, had threatened them. The former major stated that his arrest is politically motivated, wished his followers luck, and promised not to lose heart.
The decision to arrest ex-Major Dymovsky, who gained notoriety after publishing two video clips on YouTube exposing corruption in the Russian police forces, was handed down on Friday by the Primorsky City Court.
Dymovsky had made a prediction an hour before the judicial session began on Friday that it would end with him being taken to the detention center.
In a video clip published on his website, the former major stated that during an interrogation for the fraud investigation, he had been handed a subpoena to appear in court at 1:45 pm on Friday, where a judge would decide whether or not he would be detained.
Dymovsky has been under criminal investigation by Krasnodar regional authorities since the end of 2009 for appropriating money that had been budgeted for operational expenses. "Supposedly, I wrote them off for five years. And appropriated 24 thousand [rubles]," approximately $800, Dymovsky told Gazeta.ru at the end of December. He added that had documents that proved his innocence and said that the case against him had been "ordered."
In his video blog, Dymovsky said that the arrest did not scare him. "I'm always with you. I'm being cheerful, happy, regular. Good luck!" he said before leaving for court. A supporter of the ex-major said that during the judicial session, investigators asserted that Dymovsky must be under guard since he had threatened them. "But the witnesses were officers from the criminal investigation department of the Novorossiysk police who had worked with him. So these are people dependent on and intimidated by their superiors, and therefore gave all the evidence that the investigators needed immediately," the supporter said.
According to Dymovsky, the intimidation he is being accused of could not possibly have occurred: on Thursday, after a scheduled interrogation, he went to Krasnodar for a meeting with his supporters, and did not return to Novorossiysk until close to midnight.
"But this didn't convince the court," said the supporter. "They loaded Aleksei into a police van with an escort of several cars…and took him to the detention center. His wife and I think that he'll hold up, but we're scared that today he'll wind up in a 'press-hut,'" a term for a special cell where prisoners are tortured by other prisoners with the intent of extracting a confession.
Dymovsky's lawyers plan to contend that the detention is illegal. Protestors are planning on holding a demonstration outside of the Novorossiysk police headquarters and the Primorsky Regional Court on January 25 in his support.
Officials in the Krasnodar regional investigative bureau confirmed Dymovsky's arrest, but refused to give any further commentary.
Novorossiysk Police Major Aleksei Dymovsky gained notoriety in November when he released two videos on YouTube detailing widespread corruption within the Novorossiysk regional police forces. He was promptly fired. After facing threats to his family's safety, Dymovsky left for Moscow, where his initial press conference was attended by a record number of journalists. Authorities have launched a number of efforts to prosecute the former officer, accusing him of exposing state secrets and of fraud. His movement to reform the police system in Russia has gained support across the country, including from many other law enforcement agents.