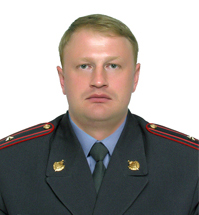 A police officer who posted a video directed at Russian Prime Minster Vladimir Putin outlining abuses within the Novorossiysk police department has been fired for slander, according to Internal Ministry representative Valery Gribakin.
The videos, which Major Aleksei Dymovsky posted in two separate parts on YouTube and his own website on November 5, detail alleged abuses of senior officers and poor working conditions for their subordinates. Gribakin stated that Russian Interior Minister Rashid Nurgaliyev had appointed an investigative unit to look into Dymovsky's allegations and found that they did not correspond to reality. Additionally, Gribakin said, Dymovsky had slandered his fellow officers and "discredited his honor and dignity," thus providing the basis for his dismissal.
Gribakin also said that the Interior Ministry will undertake an agency-wide check of the Novorossiysk police bureau and that Minister Nurgaliyev would report the findings to President Dmitri Medvedev and Prime Minister Putin.
A couple of days after posting the videos, which have now received more than two hundred thousand hits on YouTube, Dymovsky said that he fears for his safety and has been forced to hire a bodyguard. He believes that he is being followed and is making arrangements to send his family to Moscow for protection.
Dymovsky, who worked in a police department that fought illegal narcotic trafficking, made the videos to show the Prime Minister what he said was "the life of cops across Russia…the ignorance, the boorishness, the recklessness, where officers die because of their dim-witted bosses." He said that senior officers treated their subordinates "like cattle," and that officers worked without weekends, received extremely low salaries, and are demanded to investigate and arrest people for nonexistent crimes. "The Chief of City Police conferred me with the rank of major on receiving a promise from me to frame an innocent person," Dymovsky says in the video.
Human rights advocates in Novorossiysk have expressed their readiness to defend the officer. They noted that despite everything Dymovsky had said, it was far from all that happens in the Novorossiysk police department. "It's scarier yet; there just aren't police officers who, like Aleksei Dymovsky, are ready to tell the truth about what is happening," said Vadim Karastelev, director of the Novorossiysk Committee for Human Rights.
Police in Russia have long been accused of abuse and corruption. A recent study estimated that 1 in 25 people are tortured, beaten, or harassed by law enforcement officials in Russia each year. In a case last October, a human rights activist was beaten into a concussion and detained by police in St. Petersburg when he asked them for identification.