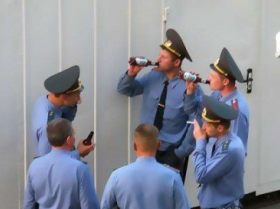 The surveillance video is chilling.  A uniformed police officer, drunk and swaying, staggers through the aisles of a Moscow supermarket.  Gun in hand, he calmly shoots, reloads and keeps shooting as terrified shoppers run for their lives.  The late April rampage, which left three dead and seven injured, has shaken up the Moscow police force.  The fact that its 32-year-old perpetrator, Major Denis Yevsyukov, was a high-ranking district police chief, has added to the public outrage.
For a system of law enforcement with an already lackluster reputation, the killing spree was a low point.  But in the weeks since the shooting, a number of other high-profile crimes committed by police officers have shown that abuse of power is all too common.  While officials are pledging to drastically change the training and education program provided for officers, many remain concerned that they are doing too little.
In May alone, the number of incidents involving the Russian militsiya and other agents of the law is shocking.  On May 9th, one drunk senior lieutenant in the Yamalo-Nenets Autonomous Okrug opened fire on a children's playground and assaulted a young girl.  Allegedly, he was angered by the fact that she was singing a pop song in English during the Victory Day holiday.  On May 1st, an officer in the Samara oblast shot and injured his wife, before taking his own life after the two had an argument.
There have also been three driving accidents where officers killed or injured pedestrians with their service automobiles.  Another officer, drunk and high on drugs, caused a high-speed chase through Moscow after he refused to stop for an inspection. A fifth accident was caused by a drunk fire-fighter in the Arkhangelsk oblast, who hit two schoolgirls, one of whom died instantly, before he tried to flee the scene.
An officer in St. Petersburg has meanwhile been accused in a series of sexual assaults against teenage boys.  Another St. Petersburg officer from the Russian anti-narcotics service was arrested in something that reads like a Hollywood script.  A statement from the agency said the agent would confiscate drugs and money from trafficking suspects, then forcing them to work for him as drug-dealers.
Finally, an arms trafficker was arrested in Moscow for attempting to sell two handguns to undercover agents.  It turns out the dealer used to work as a deputy police chief in the same office as Denis Yevsyukov.  Investigators have denied a connection between the two.
As result of Yevsyukov's killing spree, a number of high-placed officers have resigned from the Moscow police force.
Mikhail Sukhodolsky, the deputy minister of the Ministry of Internal Affairs, admitted on May 14th there was a problem and pledged to reform the agency's training program.
"Today we are forced to admit that the training provided to militsiya officers leaves much to be desired," he told the Rossiyskaya Gazeta in an interview to be published Thursday.  "Which is to say that people may not be prepared, both professionally and psychologically, for their mission of defending people."
Human rights leader Lev Ponomarev, meanwhile, released a statement on May 14th expressing that in its current form, the militsiya had become a threat to society.  To solve this problem, Ponomarev said the whole system must be changed.
Lev Levinson, an expert from the Institute for Human Rights, agreed.  Reforming the professional training was a necessary step, he told the Kasparov.ru online newspaper.  Yet changes would be useless if the system of accountability remained unchanged, he said.
On May 19th, Moscow's rights organizations are planning to stage demonstration to call for a reform of the militsiya and its abuses of power.  A corresponding permit request was filed with city officials on May 7th.