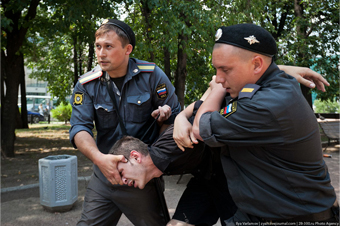 Approximately forty opposition activists have been arrested over the past several days in Moscow amidst an ongoing sit-in to protest what they say is the politically-motivated arrest of one of their colleagues, Gazeta.ru reports.
Since July 15, the activists have been gathering at the Solovki Memorial Rock – a monument to victims of Soviet labor camps that sits across from the former KGB headquarters, Lubyanka – in support of Taisiya Osipova, the wife of Other Russia party bureau member Sergei Fomchenkov. Osipova was arrested last November under charges of drug possession, which she and her supporters insist was planted by officers from the Center for Extremism Prevention (Center "E") in an attempt to exert pressure on her husband.
On Monday, four activists from Solidarity and the Other Russia party were added to the total number of Lubyanka detainees.
"The police detained four activists who attempted to jump over the barricade" that had been erected to prevent protesters from reaching the monument, explained Other Russia member Matvei Krylov.
At least the majority of the detainees spent the weekend in police holding facilities. All are charged with disobeying police orders, an offense punishable by up to 15 days of administrative arrest.
Nevertheless, the protesters intend to hold their ground until July 21, when a court is set to rule on Osipova's case.
That officials from Center "E" might attempt to frame a person associated with the Russian opposition should come as no surprise: the controversial Internal Ministry operation has been blamed by human rights groups internationally for harassing, beating, kidnapping, and torturing "criminal suspects," who often include peaceful political, environmental, and artist activists.
The Center raided an apartment where Fomchenkov, Osipova, and their child were present in December 2009 without explaining the basis for their actions.
See Ilya Varlamov's photographs of the detentions on July 15 and 18 here and here.