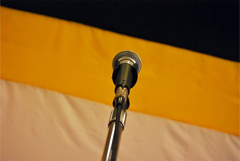 Just days after its founding congress, the Other Russia opposition party is already facing government pressure in the cities of Khabarovsk and Ryazan that threatens to hinder its ability to participate in upcoming elections.
On Thursday, the Kasparov.ru news website reported that police in the far-eastern city of Khabarovsk have confiscated one thousand copies of the Other Russia party's membership application.
Anton Lukin, a delegate from the party's July 10 founding congress, was detained upon his return from Moscow to the Khabarovsk airport and sent to the notorious Center for Extremism Prevention (commonly known as Center "E"). There, officials confiscated the set of blank applications as well as several copies of the party's program, Lukin's flash drive, and a book of poetry.
Police refused to give Lukin the legally-required written verification that his belongings had been confiscated; he plans to file a complaint with regional prosecutors.
Other Russia party executive committee member Aleksandr Averin said that the confiscation is likely an attempt by the authorities to prevent the party from gathering the 45,000 members necessary for official federal registration. Without this registration, the party will not be able to participate any federal or local elections.
Just southeast of Moscow in the city of Ryazan, Other Russia branch leader Sergei Yezhov reported on Thursday that the city's official website had abruptly canceled a press conference meant to discuss the party's founding.
Yezhov said that the press office of the city website agreed on July 14 to hold a press conference on July 19. An announcement was posted on the website at about 4:00 pm on Thursday, but then it was gone an hour and a half later.
According to the opposition leader, an anonymous source in the website's editorial office said that the press conference was canceled "not because of organizational, but political motives."
Nikolai Matrosov, editor-in-chief of the Ryazan city website, refused to comment to Kasparov.ru in regards to the unexplained cancellation.
Russian opposition leader and writer Eduard Limonov announced the creation of a political party under the name of the Other Russia opposition coalition on June 28. At the time, Limonov said that he expected the government to attempt to interfere with the party's attempt to gain official registration. A founding conference was held in Moscow on July 10, where delegates agreed on a party program. As agreed, the party will focus on carrying out decisive democratization of Russia, to de-bureaucratize the government, to make political turnover at the highest levels of government a possible reality, and to reinvigorate the country's political spirit.