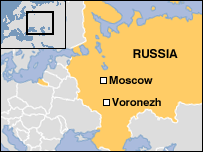 A Russian opposition activist claims that he was tortured in police custody on October 31.
Konstantin Makarov, a member of the banned National Bolshevik Party, was an organizer for an opposition rally planned for that night in Voronezh, south of Moscow. He says that on noon Saturday near his home, he was forced into a car by two men in plain clothes, one of which was S. Yemkov of the Russian Interior Ministry's Center for Extremism Prevention (Center "E").
According to Makarov, Yemkov announced that "he got them" and that he would now be taken to a reservoir and drowned.
His face was then covered with a jacket and he was brought to a room in Center "E," where his hands, legs, and the jacket around his head were bound with tape. After a while, several people including Yemkov entered the room. Yemkov stated that he had been very annoyed at an unsuccessful attempt to catch Makarov two years prior, and that the two would now be acquainted "to the extreme" (literally, "by the whole program").
Yemkov also said that he and the others had been "given the green light," and were therefore quietly going to kill both other oppositionists and their close ones.
At that point, Makarov says, other people in the room began asking questions pertaining to National Bolshevik leader Eduard Limonov, detained that same night, and his followers. In particular, he continued, the people were interested in the number of National Bolsheviks in Voronezh, who the local leader was, and who financed them. They were also interested in what party members Konstantin knew in other regions, particularly in Moscow. Questions were also raised concerning the financing for the spring 2007 issue of "Friend of the People," a National Bolshevik publication.
Makarov says that upon refusing to answer questions, he began to be tortured.
He asserts that the men twisted his arms behind his back and strangled him. They also lifted and dropped him on the floor several times, and threatened him with rape.
After approximately an hour, the men said that Makarov would be beaten in such a fashion after every subsequent event held by the National Bolsheviks unless he agreed to cooperate with them. They demanded information about the National Bolshevik Party as well as other opposition movements in the city. In exchange, they offered to extend help to other detained oppositionists, as well as to help arrange rallies and protests "within reasonable limits."
As a first cooperative step, Makarov was asked to say that he was brought not to Center "E," but to the Leninskoe Regional Department of Internal Affairs in Voronezh. If he refused to cooperate, Makarov says, they threatened to kill him, his mother, or his brother. After what the men called a "productive" conversation, Makarov was released from Center "E," where his friends were already waiting at the entrance.
The National Bolshevik Party in Voronezh stated that as Makarov does not have any enemies, anything that happens to him or his relatives should be considered retaliation on the part of Center "E" for his refusal to cooperate.
The Center for Extremism Prevention of the Russian Interior Ministry was founded on October 31, 2008 on the order of the Interior Minister. It is accused by Amnesty International of stifling dissent from journalists and activists under charges of extremist activity; a 2009 report cites accusations of torture to extract confessions from criminal suspects. Police in Russia have long been accused of torture, which the Internal Ministry has admitted is a problem.
The rally Makarov had helped to plan was part of the "Strategy 31" opposition protests held on the 31st of every month with that date. Organizers hope to bring attention to the 31st article of the Constitution, which guarantees the right to freedom of assembly. A related event in Moscow that same night ended with the detention of 70 of the approximately 500 activists, including Eduard Limonov, a leader of the Other Russia coalition and the National Bolsheviks.