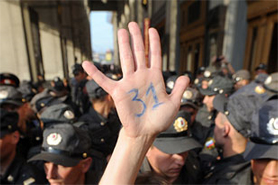 The Kremlin has reportedly made an offer to Russian opposition leaders that, if accepted, would grant them official sanction to hold an ongoing series of rallies in defense of the constitutional right to free assembly – "Strategy 31." According to Gazeta.ru, the Kremlin's proposition stipulates that the sanction will be granted only if National Bolshevik Leader and Other Russia representative Eduard Limonov be excluded from the event's organizational committee. Opposition leaders, in turn, have sharply turned down the offer, decrying it as "obscene."
Speaking to Gazeta.ru, former Deputy Prime Minister and co-leader of the Solidarity opposition movement Boris Nemtsov said that the offer came several days ago from Vladislav Surkov, a primary Kremlin ideologist and highly influential aid to both the president and prime minister. Nemtsov refrained from specifying precisely to whom the proposition was made, but reports cite that it was to the "moderate" wing of the Russian opposition. Nemtsov denied that Surkov made the proposal directly to him, as some sources were reporting.
Left Front opposition leader Sergei Udaltsov expressed certainty that the Kremlin met with representatives from Solidarity, "since the Kremlin considers them to be moderate figures."
According to Limonov himself, the offer was made both to Nemtsov and noted human rights advocate Lev Ponomarev, who heads the organization For Human Rights and is also part of Solidarity's leadership. "At first they confirmed it. Then, clearly, they began to shy away – because now they have connections in the Kremlin," he said.
Limonov, whose National Bolshevik Party is officially banned by the Russian government, characterized the proposal by the presidential administration as "the arrogance of a government that doesn't want to give into Limonov." He added that he has no intention of giving up his post as Strategy 31 organizer: "You cannot make concessions to the government: today they're asking to sacrifice Limonov, but tomorrow it'll be Limonov's children."
Meanwhile, the Kremlin denied the existence of any contact with the opposition at all. One high-level presidential representative, speaking under condition of anonymity to Gazeta.ru, said that he had no knowledge of any such negotiations.
In any case, opposition leaders are categorically refusing to abandon Limonov.
"I think the proposal is obscene," Nemtsov said, noting that Limonov and his supporters had participated in Strategy 31 since the very beginning in July 2009. "And although it's now a shared event, nobody has the right to start colluding with the government in this regard," he concluded.
Vsevolod Chernozub, co-chairman of the Moscow branch of Solidarity, commented that the Kremlin's proposal "reflects the cop-like and Chekist style of thinking of the current government."
Strategy 31's organizational committee has routinely consisted of Limonov, former Soviet dissident and Moscow Helsinki Group head Lyudmila Alexeyeva, and Left Front representative Konstantin Kosyakin. The three have applied to the Moscow mayor's office for official sanction on seven separate occasions – on each month with a 31st date – and have been denied every time.
Alexeyeva also said that she had no plans to exclude Limonov for the upcoming rally on July 31. "I'm in favor of holding consultations with the Moscow government, as is required by law. Like always, three representatives of the event will hold these consultations," she told Gazeta.ru.
Limonov added that, as a Strategy 31 organizer, he is currently participating in mediation procedures with Russian Human Rights Ombudsman Vladimir Lukin and Moscow Human Rights Ombudsman Aleksandr Muzykantsky. Their most recent session was held on June 1, one day after police violently broke up May's Strategy 31 rally. During that meeting, said Limonov, a different proposition was made: "The July 31 event could be held on Pushkin Square, and then as a reward they would supposedly give us Triumfalnaya [the next month], and the next time again on Pushkin, and so on," he explained. "But I said that this was unacceptable to us: we aren't migrant workers who can be driven back and forth."
The Kremlin offer comes two weeks after Limonov announced the creation of a political party based on the Other Russia opposition coalition and his intentions to lead the party in upcoming parliamentary elections. Reports about the Kremlin proposal itself come on the same day as the pro-Kremlin youth organization Young Guard announced that they have been denied sanction by the Moscow authorities to hold an event on Triumfalnaya Square on July 31 – the same date and place where the Strategy 31 rally is planned to be held. A representative from the Moscow regional government told Gazeta.ru that a three-day automobile festival has been planned for the last weekend in July on Triumfalnaya Square.
The leadership of Young Russia confirmed that they had been denied sanction for their event, and also expressed a great deal of disbelief. As has been the pattern until now, Strategy 31 opposition leaders are continually denied sanction for their own rallies, with one commonly-given excuse being that pro-Kremlin youth groups have already applied to use the same space at the same time.