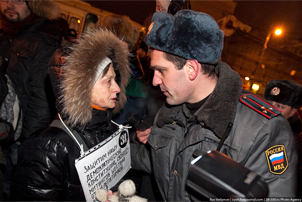 The organizers of a series of rallies in defense of the Russian constitution are asking the Prosecutor General to investigate what they believe was a direct intent by the Moscow mayor's office to instigate conflict between opposition protesters and radical pro-Kremlin youth activists.
Renowned rights advocate Lyudmila Alexeyeva and opposition leaders Eduard Limonov and Konstantin Kosyakin, whose Strategy 31 rallies are held on the 31st of every month in defense of the freedom of assembly guaranteed by the 31st article of the constitution, said in a letter to the Prosecutor that their efforts to avoid conflict while maintaining their constitutional rights during their March 31 rally went unheeded by the city administration. Specifically, the organizers stressed that they had sent the mayor a letter on February 24 asking him to recommend that other events planned for the same time and location be moved to avoid any overlap.
Even though the mayor's office knew that the Strategy 31 protest was going to be held despite a lack of official sanction, they chose not to inform the organizers that their traditional place of protest, on their traditional date, and at their traditional time was going to be occupied by their ideological opponents, said the activists. As it turned out, approximately three thousand pro-Kremlin youth activists held a dance party rally against terrorism alongside the Strategy 31 protesters that day. While no violent clashes between the two groups broke out, the oppositionists were very concerned at the heightened tension that the mayor's office allowed to result.
"It gives the impression that the mayor's office intentionally provoked a clash between our followers – peaceful citizens who came to defend their right to the freedom of assembly, and youth organizations known for their nasty reputation," says the letter. On that basis, the organizers asked the Prosecutor General to investigate the activities of the mayor's office.
Moscow Mayor Yury Luzhkov has had expressed conflicting thoughts about the Strategy 31 rallies.
Alexeyeva, Limonov, and Kosyakin have also appealed to the European Court of Human Rights in connection with the fact that the Moscow city authorities have refused to sanction a single one of the Strategy 31 rallies since their inception last May. Furthermore, each of the rallies has resulted in scores of protesters being beaten and detained by police. International rights organizations, the Council of Europe, and United States government have criticized the Russian authorities for failing to observe the right to free assembly and using excessive force against the Strategy 31 participants.