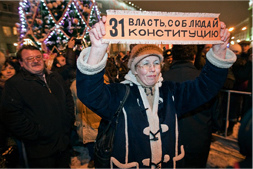 Leaders of the Other Russia opposition coalition announced on Monday that they have officially filed a complaint against the Russian government in the European Court of Human Rights in Strasbourg regarding a series of rallies in defense of the right to free assembly that have been routinely denied legal sanction.
Speaking to Kasparov.ru, Aleksandr Averin of the Other Russia's executive committee said that the filing deals specifically with the first of the coalition's Strategy 31 rallies – thus named for the 31st article of the Russian constitution guaranteeing free assembly – held on May 31, 2009. At the time, Moscow city authorities had refused to officially sanction the rally – a trend that continued with each of the proceeding rallies, which the coalition has held on the 31st of each month with that date. Taking part in an unsanctioned rally in Russia violates federal law, and each of the unsanctioned demonstrations have resulted in scores of protesters being beaten, detained, or both.
The Other Russia lawyer Dmitri Agranovsky asserts in the Strasbourg complaint that by banning the May 31 event, Russian government agencies violated three separate articles of the European Convention on Human Rights: Article 6 – the right to a fair trial, Article 10 – the right to freedom of expression, and Article 11 – the right to freedom of assembly. If accepted for consideration by the court, the case may not be heard for years.
Many Russian human rights groups, journalists, and oppositionists often appeal to the Strasbourg court either after or instead of attempting to navigate Russia's own judicial system – partially out of fears of corruption, and partially in hopes of gaining the binding mandate issued by the prominent European court. Along with the Strasbourg suit, the Other Russia is also filing suit against the Russian government in Russia's Constitutional Court.
The coalition is also filing a separate case in Moscow's Tverskoy Court regarding the most recent Strategy 31 rally held this past March. Rally organizers Lyudmila Alexeyeva, Eduard Limonov and Konstantin Kosyakin are arguing that the Moscow city administration's refusal to sanction the rally is illegal under Russian law.