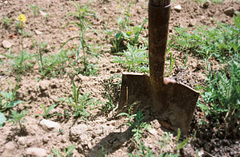 In less than two weeks, a full year will have passed since the fatal shooting spree by a drunken Moscow police major that set off a public relations firestorm for Russia's embattled Ministry of Internal Affairs. Russian media, politicians, and citizens alike have been overwhelmingly united in their calls for radical reform of a police force notorious for its brutality and corruption. While the president calls for staff cuts and wage increases and the internal minister faces a summertime deadline to show some results, scandalous incidents involving the police continue to appear almost daily in the Russian news. But even after so many stories of bribery, beatings, torture, harrassment, attempted murders, murders under the influence, driving under the influence, using people as human sheilds, using slave labor, and systemic corruption covering up so many other abuses of authority, one cop in the Urals region of Chelyabinsk has still found an ingenuitive way of outraging an already furious population.
Authorities in Chelyabinsk are filing a criminal suit against police lieutenant Vitaly Yuzynchuk for hitting and killing a pedestrian, whose body he proceeded to bury on the spot. Investigators say that late on the night of April 6, Officer Yuzynchuk was driving his Honda when he hit a 38-year-old Chelyabinsk resident. The victim died at the scene, and the officer decided to cover up the crime by burying the dead body.
However, criminal investigators uncovered the body after several days, and were able to identify the vehicle involved in the accident. Upon learning that he had been found out, Yuzynchuk filed a confession and stressed that "the pedestrian had crossed into closely oncoming traffic."
According to local media, two of Yuzynchuk's fellow officers were with him in the car at the time of the accident. All three are presumed to have been drunk. It was unclear whether the passengers currently face any charges, and in fact, Yuzynchuk himself is only being charged with negligent homicide by improper use of a vehicle – not for hiding the body. He faces a maximum term of five years in prison.
Yuzynchuk's colleagues, including those who uncovered the crime, have come out in strong support of their colleague. A statement to Gazeta.ru from one regional police department read: "Once again you want to write filth about police officers; no comment." Yuzynchuk was characterized positively in his own department. "We can't say anything bad about him as either a police officer or a person," said one officer. "Nothing reprehensible was ever noticed before. There were never any problems with him at work or on a personal level; he never caused any concerns."
As Gazeta.ru points out, this is not the first time a police officer has been caught shirking responsibility from a traffic accident. In the Vladimir region last August, Officer Yevgeny Spitsyn hit a bicyclist from behind while off-duty; he stopped his car and, failing to check if the woman was still alive, dragged her into a nearby ditch. He then covered the body with branches and left the scene. After the body was discovered, Spitsyn played an active role in the criminal investigation, including by questioning witnesses. In another incident last November in Krasnodarsky Krai, officer Sergei Afanasyev, in uniform, drunkenly lost control of his vehicle and rammed a bus stop, injuring a pensioner and her granddaughter. The officer took them to a regional hospital and falsified their medical documents, saying that the injuries were sustained when the two women simultaneously fell into a basement. The grandmother later filed a complaint with the prosecutor's office explaining what had actually happened, and a suit was filed against Afanasyev. His trial has yet to begin.