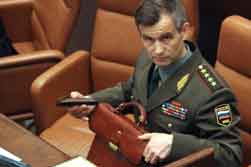 Russian Internal Minister Rashid Nurgaliyev is inviting citizens to voice their input on new draft legislation to reform the police. In an address broadcast Wednesday on the Police Wave radio station, Nurgaliyev called current legislation governing Russia's law enforcement agencies "out of date" and said that the new laws would be based on the idea "not of citizens for the police, but of police for the citizens."
The current law, titled "On the Police," dates back to 1991, when "there was a different state, a different time, and different responsibilities," Nurgaliyev said in his address. "And any law should correspond with current realities."
The minister gave the infamous Russian tradition of "identity checks" as an example of an outdated protocol – to an extent. "In accordance with 'On the Police,' if a person is outside without identification documents, a police officer has to bring him to the station to establish his identity," Nurgaliyev said. "But now that's entirely unnecessary – the patrol cars have computers, and officers on foot have hand-held devices, so they can use our information database to establish the identity of a citizen in the course of a few minutes in that very place."
The Internal Ministry plans to finalize a draft of the new legislation later this spring, and will then post it on the agency's website for Russians to read and send in their own input.
"Every voice will be heard and taken into account," the minister said.
Nurgaliyev stressed the importance of improving the relationship between Russia's civilians and the police. "A person should be certain that, when he comes to a local police station, that he will meet an officer who is open to communication, who is considerate and kind-hearted," he said.
Additionally, Interfax reported on Wednesday that plans had been posted on the agency's website for a regulation that would require all civilian, military, and law enforcement personnel in the Internal Ministry to inform their supervisors of any possible instances of corruption among their colleagues.
Notorious levels of brutality and corruption have stained Russia's police forces for years, but media coverage of such incidents exploded after a lethal shooting spree by a drunken police major in a Moscow supermarket last April. Since then, the need for drastic police reform has figured among the most agreed upon topics by Russian politicians, the media, and the public alike, and President Dmitri Medvedev has made a number of proposals to that end in the past several months.
On Tuesday, the day before Nurgaliyev's radio address, reports surfaced that the minister had been given nine months to fix the dire situation in his agency or face being fired. According to the newspaper's source in the central apparatus of the Internal Ministry, whether or not his initiatives were successful would be judged by the number of criminal suits filed against the police, monitoring by the media, and reports by human rights and other public organizations.