All Posts Tagged With: "electoral fraud"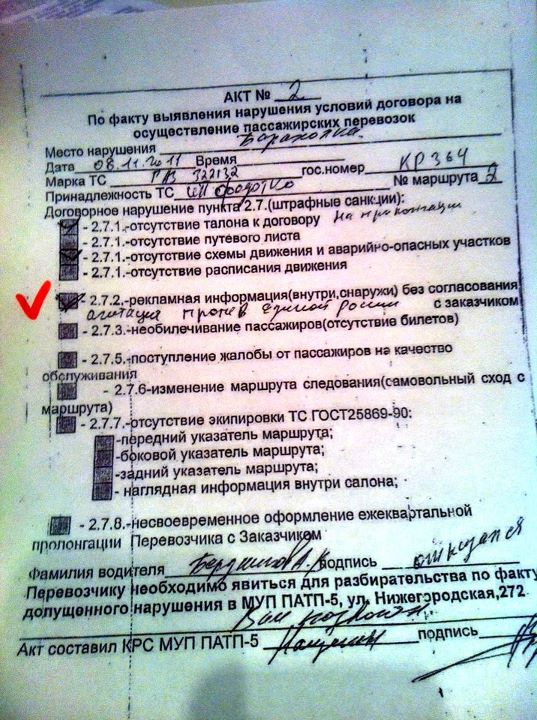 Authorities in Novosibirsk file charges against A Just Russia for agitating against United Russia with an ad that doesn't actually mention the party's name.
Nov 13, 2011 |
Continued

About 1500 people rallied in Moscow on Saturday against upcoming parliamentary elections that are all but guaranteed to give fraudulent wins to Putin's United Russia party.
Oct 22, 2011 |
Continued

Deputies from the European Parliament are saying that Russia should be treated like Belarus, where sanctions have already been placed against certain civil servants.
Apr 12, 2011 |
Continued

Electoral monitors reported a sharp rise in electoral violations in Russia's regional elections over the weekend, which analysts link to a general fall in United Russia's ratings.
Mar 14, 2011 |
Continued

With another round of regional elections coming up in March, renowned blogger Alexei Navalny is asking his readers to get out the vote for any party besides United Russia and has opened a poster contest to promote the campaign.
Feb 25, 2011 |
Continued

Watchdog groups and oppositionists cite massive electoral violations as Kremlin-backed candidates sweep Sunday's regional elections in Russia.
Oct 11, 2010 |
Continued

United Civil Front leader Garry Kasparov was among opposition leaders at a meeting in Moscow this week to discuss the 'Putin Must Go' petition, which so far has gathered more than 43 thousand signatures.
May 13, 2010 |
Continued

A monitoring commission from the Council of Europe is criticizing Russia for failing to recognize the right to free assembly as a basic human right, and also for beating members of unsanctioned protests.
Mar 24, 2010 |
Continued

Independent observers have labeled Sunday's regional elections in Russia as "the filthiest in all of history," while the leading United Russia party says that it is satisfied with how the elections were held.
Mar 15, 2010 |
Continued

Russian Prime Minister Vladimir Putin has issued a warning to United Russia party leaders that they cannot make false promises to voters and must learn how to better communicate with the public.
Feb 6, 2010 |
Continued