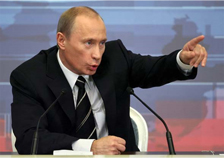 Russian Prime Minister and United Russia Party leader Vladimir Putin has prohibited party members from promising too much to voters in the run-up to regional elections in March, Interfax reports.
"You cannot promise everything to everyone all at once," the prime minister told party leadership at a meeting on Friday. "You can't turn into promisers who make promises only in order to pull the wool over people's eyes, force their way into government agencies, and then just deal with their own problems."
Putin asserted that the party needed to learn how to explain to voters what problems are faced by regional governments, and also how to prove to them that United Russia proposes the most effective solutions to these problems.
Putin's warning comes a week after Russia's largest anti-government rally in years, when 12 thousand protesters gathered in Kaliningrad last Saturday to demand the resignations of Kaliningrad Governor and United Russia member Georgy Boos and Prime Minister Putin. Every political party in the region besides United Russia participated in the rally.
United Russia is the largest and most powerful political party in Russia, and has held nearly a complete monopoly on government offices at every level throughout the country since its inception in 2001. It has been accused of rigging elections countless times, including the last set of regional elections in October when the representatives of three opposition (though largely Kremlin-loyal) parties walked out of the State Duma in protest of the blatantly fraudulent results.