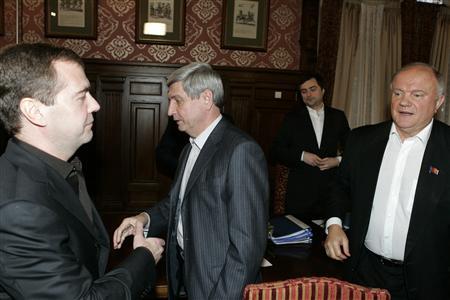 In an October 27 meeting with Central Elections Commission chief Vladimir Churov, Russian President Dmitri Medvedev stated that the disputed results of recent regional elections "ought to be answered in court." A failure to do so, he claimed, would "set the political system in the wrong direction."
He also said, however, that the election results did indeed "reflect citizens' political party preferences."
These comments follow Medvedev's weekend meeting with leaders both from opposition parties and parties normally loyal to the Kremlin. Despite being presented with 120 counts of electoral fraud, he stated that the election results would not be annulled. Vladimir Zhirinovsky, leader of the nationalist Liberal Democratic Party of Russia (LDPR) and close Putin ally, was a surprising critic of the elections. According to Zhirinovsky, the president stated that election annulments "do not, in principle, happen anywhere in the world, and that the situation has to do with the fact that we must use the judicial process – and we are using it in full force."
Medvedev did agree that the elections had not been ideal.
Boris Gryzlov, Chairman of the Supreme Council of Putin's United Russia party, said that by having the meeting, Medvedev had "fulfilled his constitutional role as guarantor of the Constitution." He proposed that anyone in disagreement over the election results turn to the courts, stressing that there should not be any "political disorder."
Medvedev requested at the beginning of the meeting that party representatives not turn the discussion into a funeral for democracy. "I intentionally dressed darkly today, thinking that, who knows, you all might be in the mood for a funeral," said the president.
Deputies from LDPR, A Just Russia, and the Communist party walked out of an October 14 session of the State Duma in a sign of contempt at the election results of October 11. However, after a telephone call with the president the next day, LDPR and A Just Russia agreed to return to their posts; the Communist party returned for the sake of budget discussion.
Elections took place on October 11 in Moscow and 75 other regions of Russia for officials on various levels of government. They delivered sweeping wins for United Russia across the country, continuing the political monopoly it has held since its conception in 2001. Observers noted massive electoral violations, including ballot stuffing and multiple voting with the same absentee ballot.
In Moscow, the majority of opposition candidates had been banned from the ballot. Widespread electoral fraud quickly became clear and has now been statistically documented. Numerous incontrovertible examples highlight the unabashed nature of these violations – opposition party Yabloko, for one, received no votes even at the polling station where its leader, Sergei Mitrokhin, had voted.