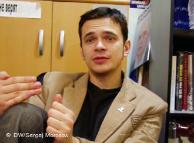 The list of opposition candidates barred from running in Moscow's municipal election has grown. As of Saturday, all seven candidates from the Solidarity Opposition Movement had been pulled from the race. Olga Shorina, the Movement's press-secretary, reports that electoral officials declined each candidate's registration on what look to be dubious grounds.
Moscow's Electoral Commission earlier denied registration to four of the Movement's candidates, citing technical errors with their signature lists. The last three candidates, including economist Vladimir Milov, were removed for similar reasons, Shorina said. Each was running in one of the capital's single-mandate districts.
The candidates will now have the chance to appeal the Commission's ruling, Shorina said. The group will use all methods at their disposal, including legal action, she added.
Another liberal democratic party experienced nearly identical problems. Three independent candidates from the Pravoe Delo party were prevented from registering by the Commission. Only one member of Pravoe Delo, Elena Guseva, was ultimately registered for the election.
Solidarity had put forth a total of seven candidates – Ilya Yashin, Igor Drandin, Ivan Starikov, Nikolay Lyaskin, Roman Dobrokhotov, Vladimir Milov and Sergei Davidis. Each one was barred registration over minor issues with their collected lists of signatures. In Yashin's case, the Commission deemed that 100% of his collected signatures were invalid. Yashin and the other opposition politicians maintain that the decision to remove them was political, asserting that their lists were identical to those submitted by other parties.
Moscow City Duma elections will take place on October 11th. Candidate lists from some Parties- Yabloko, Patriots of Russia, the Communist Party, United Russia, Just Russia, and the LDPR- have been approved by the city's Electoral Commission.